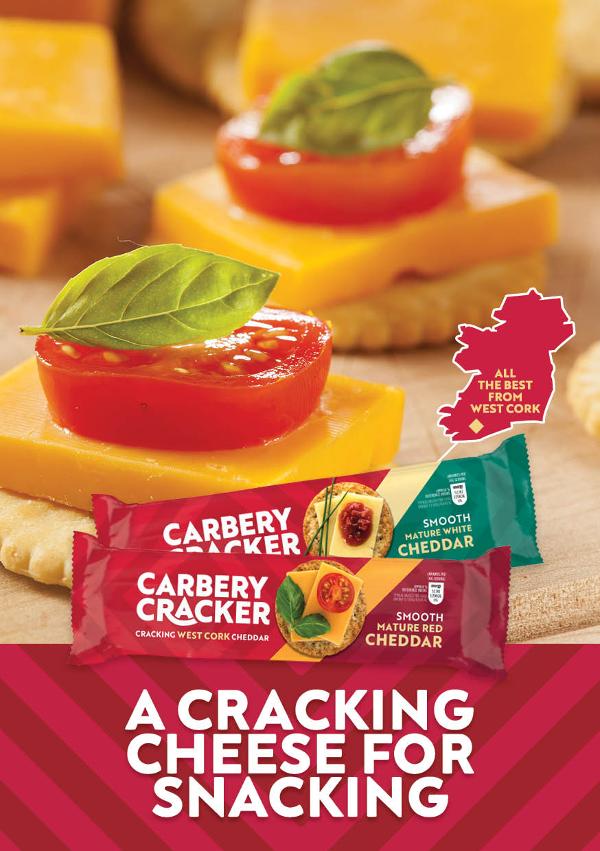 Carbery Cracker cheese is starting off 2021 with a fresh new look. To celebrate the new year, Carbery Cracker have launched 'A Cracking Cheese for Snacking' campaign, showcasing the delicious mature red and white cheddars that Carbery Cracker has to offer.
Just how popular is cheese with Irish consumers? Carbery Cracker carried out research last year* (May-June 2020) and its official – Irish consumers love cheese! 72% of consumers surveyed would prefer to buy Irish cheese.
Carbery Cracker cheese is proud to be a product of West Cork, and is manufactured by Carbery Group in Ballineen. The fun, eye-catching new packaging reflects the burst of taste that only West Cork dairy can produce. Carbery Cracker has also reduced the microns in its film packaging which means 15% less plastic goes into landfill!
The research also told us that Irish people love to snack, wth 58% of Irish consumers surveyed saying they snack two to three times a day, and 68% said they planned to use cheese for snacking. Eating habits have changed with the demands of modern society; we have become more snackers than set mealtime eaters. Cheese is perfect for giving snackers enough fuel to keep working and is a healthier snack than biscuits or chocolate. Carbery Cracker cheese, with the same great taste in its new packaging, is the perfect snacking cheese that the Irish market is craving.
Cheese is so versatile; it can be added into dishes for flavour or simply to be enjoyed on a cracker or with wine as part of a cheeseboard. It is a great savoury snack that is packed full of protein and calcium.
What are our top cheese snacks as a nation? 60% of Irish consumers surveyed said they planned to put their cheese on toast or have it in a sandwich, and 44% planned to use it for a cheeseboard.
So how does the Irish market decide on the perfect cheese? Several factors such as the origin and colour affect cheese purchases, however; the main decision-maker is the cheese maturity and taste. Carbery Cracker know how important taste is for cheese-lovers, and that's why they've kept their same, well-loved recipe for their mature red and white cheddar.
Carbery Cracker is available in all retail nationwide including multiples, symbol groups and independents (RRP €3).
---ends---