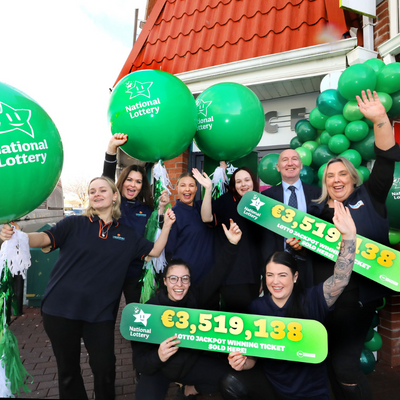 A local shop in Kilbarrack has been revealed as the selling location for Saturday's (21st January) Lotto jackpot winning ticket worth an incredible €3,519,138. Mace in Kilbarrack Shopping Centre, Dublin 5, sold the winning ticket on Friday the 20th January.
Store owner Rhonda Brophy was overjoyed to receive the call from the National Lottery following Saturday's draw. "I'm absolutely ecstatic! I couldn't believe it when I got the call. I thought oh my goodness after all this time in business, we've actually got a winner. It's just unreal. We have to be one of the busiest lottery shops on the North side, so it's about time one of our customers won! We're a locally owned and run business in the shopping centre. We'll be open twelve years this July and I've always wanted one of my customers to win." said the Dublin retailer.
"I'm looking forward to the buzz and excitement the win is going to create in the shop and community over the next few days and I'll be reminding all our customers to empty our their old trouser pockets and check their tickets! I really hope it's one of my regulars, but whoever it is, I wish them the very best of luck and hope they spend their winnings wisely", she added.
A spokesperson for the National Lottery has confirmed that Saturday's Lotto Jackpot winner has come forward. "What an amazing start to the year it's been with four brand new lottery millionaires made in the month of January already. This is also the second Lotto Jackpot winner of the year so far. We can confirm that Saturday night's Lotto Jackpot winner has made contact with our claims team and arrangements are being made for them to collect their prize."
Nearly 30 cent in every €1 spent on all National Lottery games goes back to Good Causes in the areas of sport, youth, health, welfare, education, arts, heritage, and the Irish Language. In total more than €6 Billion has been raised for Good Causes since the National Lottery was established 35 years ago. In 2021 alone, €304 million was raised for local Good Causes in communities across Ireland.  
Play National Lottery games responsibly, play for fun.