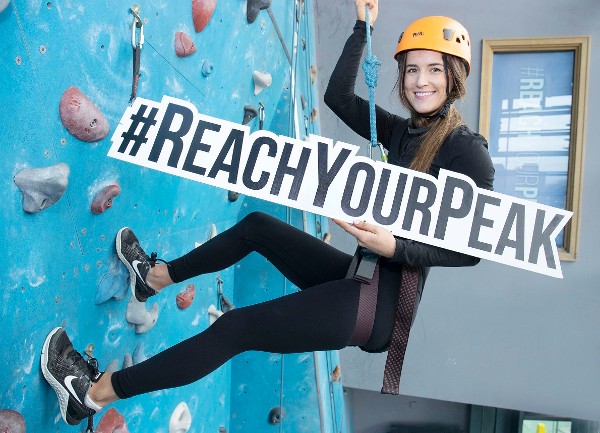 #ReachYourPeak
Today, Irish brand Everest Snacks officially launched its new range of protein bars, at Trinity Sports Campus, Dublin, as part of its Reach Your Peak event, with MC, and successful Irish Influencer, Niamh Cullen.
Niamh, who has over one hundred thousand followers on Instagram, was accompanied by a panel of inspiring Irish speakers including, 5-time hurling All-Star Joe Canning, and John Burke who successfully climbed Mount Everest in 2017 to raise funds for the youth mental wellbeing charity Elevate. The charity was co-founded by John and his wife, well-known Irish actress, Aoibhín Garrihy.
Also speaking at the event this morning was Irish MMA fighter, Deirdre Fitzpatrick and Professor in the Artificial Intelligence discipline, at Trinity College, Seamus Lawless, who is to summit Mount Everest this May. Seamus Tighe, successful, young entrepreneur who founded Everest Snacks, welcomed everyone to the event.
Throughout the morning, each panellist offered up advice on how guests could achieve their own aspirations, and how best to approach some of life's most challenging mountains – literally and figuratively speaking.
Central to the discussion, the panellists shared their own personal Everest:
Niamh hopes to travel and experience new frontiers.
Joe's quest is to win every game and get his hands on the Liam McCarthy cup again!
John, who recently learned how to swim, is building up the courage to surf a wave in Ireland.
Deirdre has her sights on the purple belt, and not the fashion kind!
Seamus Lawless aims to successfully summit Mount Everest this year.
MC and Everest Snacks Brand Ambassador, Niamh Cullen said;
"Everyone has their own Everest to conquer, whether that's in sport, in their career, or even in their personal life, and sometimes listening to people who have experienced, or overcome such challenges, is exactly the lift we need. I'm delighted to have partnered with such a fun, inspirational Irish brand like Everest Snacks"
Seamus Tighe, Founder and MD, Everest Snacks, said;
"Protein snacks have found their way into the hands of the every-day shopper, but the lack of knowledge pertaining to sports nutrition products such as protein bars, has resulted in many Irish consumers feeling overwhelmed at the many options available, their provenance and product quality. We're very proud to be an Irish-owned company who source Irish ingredients and who truly want to provide the best for its customers. My personal Everest is to take this Irish brand to new heights in global markets beyond Ireland, and build an Everest community from motivational events like this in the future."
In 2018, the company added a protein pot to its granola product range, the first of its kind on the market and while it's high in protein, it's only 250 calories, and delivers as an enriched satisfying snack while also providing a higher level of protein for those seeking a functional snack post workout.
The company's new Porridge Quickies are also available across Ireland and contain a serving of crunchy toppings that can be mixed into the porridge, to create a more satisfying breakfast snack. There are currently two flavours available, porridge with chia seeds, almonds and dark chocolate pieces, and porridge with coconut strawberry, cranberry and blueberry. Since 2014, Everest Snacks has grown its single product offering to a variety of products across the range. The future is exciting for this young, Irish brand.