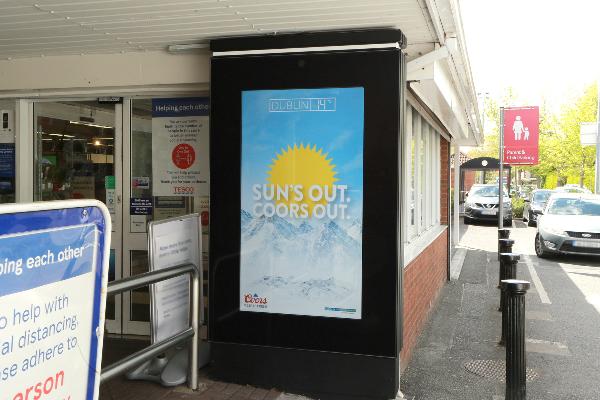 Kinetic, the specialists in innovative Out of Home (OOH) communications for brands, has joined forces with Coors to deliver a weather triggered Digital Out of Home (DOOH) campaign. Working closely with media agency Red Star, creative agency Havas Creative, and Kinetic's digital production partners DOOH.com, the campaign aims to drive awareness of Coors as the drink of choice for all occasions.
Using the innovative tagline, 'Only one peak of refreshment', the DOOH campaign will be triggered by various weather conditions, including hot, cold, sunny, rainy and cloudy and a specific creative will be delivered relevant to the present moment.
The creative will also be active across Point of Sale (POS) formats over the summer months. As Covid-19 restrictions ease and as outdoor activity and small gatherings will be permitted, the campaign encourages consumers to enjoy a Coors in the comfort of their own home or back garden.
Ria Bradley, Account Director at Kinetic said: "Kinetic is delighted to be working with Coors on this innovative and real-time DOOH campaign. The creative features in a selected sub-group of locations that are strategically located, primarily in retail formats, to drive awareness amongst consumers at the point of purchase. As a result of the pandemic, the campaign is tailored to encourage consumer to enjoy back garden moments with a Coors, whatever the weather."
Ali Hunter, Marketing Manager Premium and Accessible Lager in HEINEKEN Ireland said: "This dynamic campaign provides a strong platform for Coors to engage with our target audience. The campaign uses our brand platform of 'Mountain Cold refreshment' and the weather triggered creative invites consumers to enjoy an ice-cold Coors, whatever the Irish weather throws at them."
The campaign was launched in May and will run until the 19th September 2021.