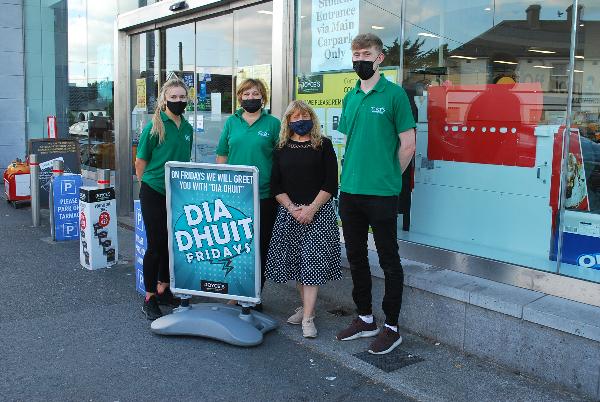 In support of the Irish language, customers in Joyce's Supermarkets will be greeted with a 'Dia Dhuit' each Friday by staff. The company has introduced 'Dia Dhuit Friday to its ten stores across County Galway this month, in a continued initiative to offer services through Irish.
Through this initiative, Joyce's are encouraging customers to get involved in Irish and bring the concept forward with them when they leave the shop. With a number of native Irish speakers on the teams across its stores, customers can also enjoy conversations as Ghaeilge during their visit to Joyce's.
Aisling Joyce, Director of Operations in Joyce's Supermarkets said: "Dia Dhuit Friday brings the Irish language to life in our stores and is a great addition to our existing promotion of the Irish language. While we have run smaller scale initiatives in the past, this is the first time we have introduced Dia Dhuit Friday to all of our stores. As well as continually striving to promote Irish produce within our stores, we have a passion for the language."
Over the past number of years, the company has worked to bring the Irish language to the forefront of people's minds through in store advertisements and using the Irish language on shopping bags and other merchandise.
Aisling Joyce added: "Our stores are located in the Gateway to Connemara, and we would encourage visitors to Galway on staycations and visits to get involved this month. As children and adults across Ireland prepare for the to return to school in September, it is also a good opportunity to reintroduce Irish to schoolchildren before they are back in the classroom."
Joyce's Supermarkets operates ten supermarkets in Galway, with branches in Headford, Knocknacarra, Athenry, Tuam, Ballybane, Fr. Griffin Road, Oranmore and Oughterard. It has two stores in the Gaeltacht in Inverin and Doughiska and employs over 500 people in County Galway. With strong ties to the local community, Joyce's Supermarkets places an emphasis on supporting local and Irish businesses. In 2020 alone, the company spent €20 million on Irish product lines.