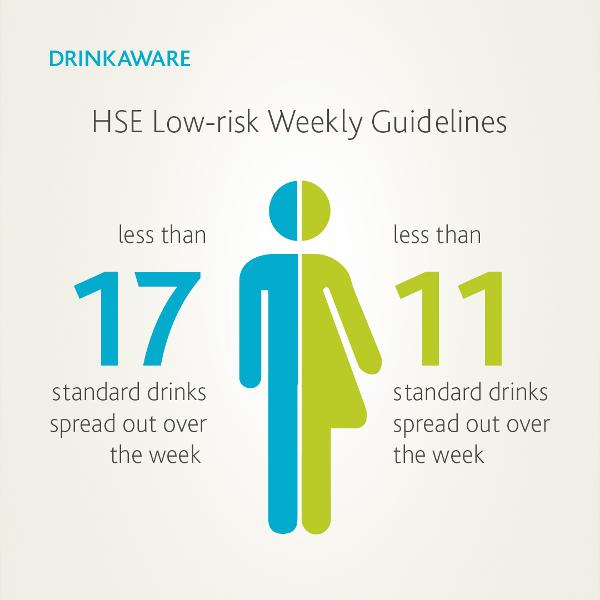 Drinkaware, the national charity working to prevent and reduce the misuse of alcohol in Ireland, is hosting a free public webinar to meet the public demand for factual information on alcohol, and to inform people about the HSE low-risk weekly alcohol guidelines.
What is a standard drink? What are the HSE low-risk weekly guidelines? If you don't know, you're not alone. Only 2-3% of Irish adults know what the HSE low-risk weekly guidelines for alcohol are*. Drinkaware's mission is to prevent and reduce the misuse of alcohol in Ireland through education and practical advice and tools to support and empower positive behaviour change. Drinkaware believes that, in order to deliver on this mission, awareness and understanding of the HSE low-risk weekly guidelines for alcohol and what a standard drink is, is critical.
If you want to understand your drinking habits better, understanding what a standard drink is and what the low-risk weekly guidelines are is a great place to start. The Drinkaware drinks calculator** is the most popular page on the Drinkaware website, with over a quarter of a million (266,813) visits so far this year. The calculator allows people to see how their drinking compares to the HSE low-risk weekly guidelines.
It is clear from the charity's continuous interactions with the public, that there is a demand and desire for factual information on their alcohol use and Drinkaware invites the public to sign up for this free educational webinar. This demand is further corroborated by findings in The Drinkaware Barometer 2021 that revealed:
· Over half of respondents agreed that the low-risk weekly guidelines are reasonable
· 42% of people would follow the guidelines if they were aware of them (+2% on 2020)
· 30% of respondents want to drink less
· 37% of respondents have already made small positive changes to their drinking habits.
Drinkaware will be joined by Pádraig Walsh, a Behavioural Specialist and lecturer in NUI Galway. Pádraig will share his expertise in positive behavioural change in
relation to alcohol and drinking habits, and discuss how to overcome behavioural and attitudinal obstacles and biases to build healthier habits.
Drinkaware CEO Sheena Horgan added:
"Knowledge of the guidelines and therefore risk, is worryingly low and needs to be addressed if want to lower the incidences of risky and excessive drinking. We know that people want to make good and informed decisions, and also that they agree that the guidelines are reasonable and are willing to follow them. Drinkaware therefore wants to ramp up our efforts to empower them by providing the facts regarding alcohol in a non-preachy and supportive way.
We're delighted that Behavioural Psychologist Pádraig Walsh is joining us. He will provide very helpful and useful insights into how these guidelines can be implemented into the daily lives of people, especially in the run up to Christmas as social occasions and gatherings increase."
Join Drinkaware and behavioural psychologist, Pádraig Walsh, to learn more about your drinking habits and positive behaviour change for free on the 17th of November at 1pm
Get the Facts about Alcohol: A Drinkaware public webinar Tickets, Wed 17 Nov 2021 at 13:00 | Eventbrite
*The Drinkaware Barometer was conducted in May 2021 by Behaviour and Attitudes, more information on key findings can be found here.
**The drinks calculator is for illustrative purposes and provides estimates only, the processing times of alcohol is different for everyone and there are many factors that will affect this time including, gender, body size and composition, alcohol strength, food intake and water intake.