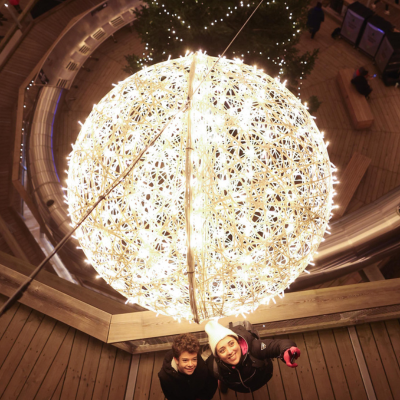 Coillte's Beyond the Trees at Avondale is thrilled to unveil details of Treetop Night Lights, a charming and unique nighttime experience, allowing visitors to experience Avondale Forest Park like never before this festive season. Beyond the Trees Avondale is a partnership between Coillte, EAK Ireland and Fáilte Ireland.
As the sun sets each evening, the Tree Top walk will be illuminated by more than 67,000 twinkling lights along its 1.4km route.
Visitors will be guided on a magical journey through the treetop walk, meeting a host of brightly illuminated forest creatures along the way, culminating in the spectacular viewing tower, stretching almost 40 metres into the night sky, overlooking the breathtaking Wicklow countryside.
Comprising more than 3 kilometres of night lights, 12 forest animals, 16 large baubles, and a spectacular Christmas tree located in the main atrium, Treetop Night Lights is a spectacle not to be missed. Thanks to advanced LED technology and low light emissions, the experience consumes under 4KwH of energy, and ensures minimal impact on nature and wildlife.
Treetop Night Lights is suitable for all ages and abilities, making it the perfect family-friendly and accessible adventure. Located just under an hour's drive from Dublin, in Rathdrum, Co. Wicklow, Treetop Night Lights offers full access throughout the treetop walk and to the top of the viewing tower, accommodating both buggies and wheelchairs.
Commenting ahead of the official opening, Coillte's Head of Recreation, Daithi deForge said, "We are delighted to unveil our Treetop Night Lights experience. This is not just a lightshow; it's an opportunity to immerse yourself in the sights and sounds of Avondale Forest at night. Our Team regularly sees how the forest comes alive at night, especially during the winter months, so we wanted to create an experience for our visitors to witness it for themselves. We can't wait to welcome visitors and sprinkle a little bit of magic on their winter nights."
The Seed Café and visitor centre will stay open until 8pm each night, offering delicious winter delicacies. Weekends in December will feature festive stalls with crepes, mulled wine, hot chocolate, pizzas, family combination meals, and kiddie arts and crafts. Traditional live music will add to the festive atmosphere.
Open from Saturday, 11th November 2023, to Sunday, 21st January 21, 2024, Treetop Night Lights will illuminate the forest daily starting at 4pm. The last entry is at 7pm, and the tower and walkway close at 8pm. Standard Treetop Walk ticket prices apply, starting from €15 for adults and €12 for kids. Children under the 3 years of age go free. For weekends, online prebooking is recommended to secure a spot.
For more information and to book tickets, please visit www.beyondthetreesavondale.com