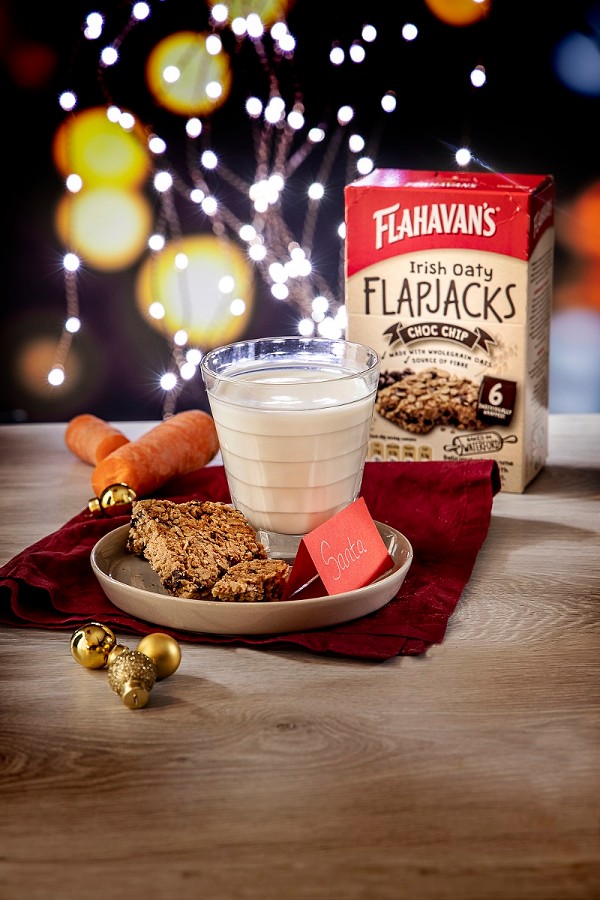 Ireland's favourite oat brand, Flahavan's, has gotten a flavour of the top things that get Irish shoppers in a flap in the run up to Christmas. The survey of over 1,000 adults across the country[1] revealed that Irish shoppers are most likely to feel stressed over long queues (46%); trying to park (43%) and the increase in traffic over the Christmas period (41%).

The 'Stay Unflappable' survey, conducted to celebrate the launch of Flahavan's new Lemon & Poppyseed and Dark Chocolate & Orange Flapjacks, revealed that savvy Christmas shoppers work hard to stay unflappable, with 4 in 10 trying to get their shopping done early and 3 in 10 writing shopping lists (and trying to stick to them).

Flahavan's flapjacks, the perfect on-the-go snack, are available in seven wholesome flavours including Orginal, Choc Chip, Cranberry & Orange, Fruit & Nut and Multi-Seed and now in delicious Lemon & Poppyseed and Dark Chocolate & Orange. So whether you're a t-oat-al Orginal fan or in need of a Choc Chip fix, keeping your energy levels up has never been easier. Individually wrapped for freshness, you can pop one in your bag, keep them at the ready in the car or on your desk at work, to enjoy when you need a boost!

Speaking about the survey, Suzanne Walsh, Brand Manager for Flahavan's said: 'Christmas can be a busy and stressful time of year and it's clear from our survey results that Irish shoppers are adopting clever tactics to stay calm under the pressure. One of our top tips is to plan ahead and keep your energy levels up by popping a Flahavan's Oaty Flapjack in your handbag or car – the best way to stay unflappable throughout the festive shopping season.'

The Flahavan's Flapjack's top 10 tips for staying unflappable while shopping this Christmas are:

1. Go Christmas shopping early in the day to beat the queues
2. Don't get carried away! Write and stick to a list / budget
3. Wear comfortable shoes
4. Bring a friend to help keep you on track
5. If struggling to think of the perfect gift, stick to tried and tested gift ideas
6. Take regular coffee/snack breaks and boost your energy with naturally wholesome wholegrain snacks, like Flahavan's Oaty flapjacks
7. Start your shopping now if you haven't already
8. Take public transport (if possible) or get a lift to avoid the stresses of parking
9. Avoid buying on impulse
10. Layer up– make sure you can adjust easily to changing temperatures as you move between shops

Flahavan's festive themed survey also found that women are most likely to get in ahead of the Christmas rush by starting to shop for presents in October or even earlier (43%). Unsurprisingly 72% of 25-44 year olds try to avoid the crowds altogether by buying most of their gifts online. Other top shopper strategies include wearing comfortable shoes (24%), treating yourself at the end of the shopping trip (15%) and taking regular coffee breaks (12%).

Despite the stress, Irish shoppers have not lost sight of the joy of Christmas preparations – 28% revealed that their favourite thing about Christmas shopping is the atmosphere; while 20% enjoy the sense of satisfaction when it's all done. 17% of Irish shoppers identify finding that perfect gift for a loved one as the thing that gets them most excited about Christmas shopping.