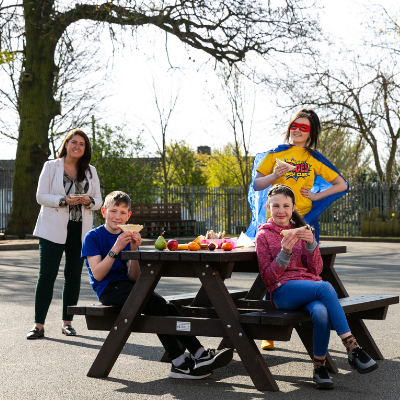 Peer learning schools programme aims to change children's eating habits
Healthy Heroes, the popular lunchtime nutrition programme is underway in hundreds of primary schools around the country as the Irish Bread Bakers Association and Bord Bia join forces again to help children improve their eating habits and fitness levels.
Created by teachers and behaviour change experts, with the support of Dr Mary McCreery, one of Ireland's leading consultant nutritionists and dieticians, the programme recognises the importance of intervening early so children develop healthy eating behaviours before they leave primary school. Using a novel peer-led approach, it aims to increase the nutritional value of the lunch box with useful tips and suggestions on ways to include fruit and vegetables as well as easy-to-understand information on the food pyramid.
Ailbhe Byrne, FDI Public Affairs Executive, IBBA says "Healthy Heroes is now in its eighth year and is still as popular as ever amongst teachers and students. School lunchtime is an important opportunity to develop positive attitudes towards food choices and nutrition, leading to life-long eating habits. Furthermore, children can be a very important influence over their peers eating and exercise habits, so the peer learning approach is central to its success."
"Primary School is a time when many changes take place which is why nutrition is so important", says Dr Elizabeth Finnegan, Healthy Eating Executive, Bord Bia. "A lot of growth happens in these years and children need the right balance of nutrients to help them reach their full potential. Variety is extremely important when it comes to this age group and children should be exposed to new flavours, textures and recipes to encourage them to be more adventurous with their food choices. It is great to see programmes like Healthy Heroes encouraging this type of in school and at home activity."