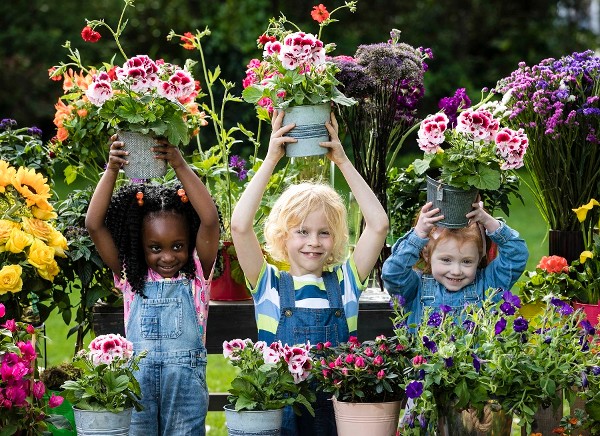 Bloom 2019 to celebrate Ireland's thriving artisan food and drink industry
Bord Bia's Bloom returns for its thirteenth year to the Phoenix Park, Dublin from 30th May – 3rd June 2019. The celebrated floral, food and family festival, which attracted 120,000 visitors last year, will feature 22 show gardens, 14 postcard gardens, over 100 Irish food and drink producers, 25 plant nurseries, 25 live cookery demonstrations with some of Ireland's best-known chefs and some 100 retailers, all within a 70-acre site.
Show Gardens
A number of the 22 stunning show gardens at the heart of this year's event will celebrate Irish food and drink. The UCD History of the Irish Diet in Plants garden will visually illustrate the changes in the Irish diet over the past 8,000 years documenting how the Irish diet has moved from diverse but local to diverse and global. The garden is divided into five sections representing the hunter gatherer diet of Ireland's early settlers; the introduction of farming; the entry of imported crops and foods into our diet; the impact of industrialisation; and the expansive diet of today.

The Healthy Way Garden, jointly sponsored by the HSE's Healthy Ireland initiative and Bord Bia, explores the steps you can take to achieve a healthier, more balanced lifestyle. There are also show gardens created by Lidl, Blackwater Gin and Bord Iascaigh Mhara to communicate messages of importance to their organisations.
Bord Bia's Food Village
The Food Village will host more than 100 producers allowing visitors to admire, sample and take home premium Irish-produced food and drinks from an abundance of stalls and meet the people who make them. The Food Market will feature 68 smaller scale Irish producers of farmhouse cheeses, preserves, baked goods, confectionary, juices and much more; the Love Irish Food pavilion will feature up to 15 stalls belonging to their members; the Fresh Food Market, dedicated to Bord Bia Quality Assured meat, poultry and fish as well as fruit and vegetables, will be tended by nearly 14 producers selling and providing information to the public.
Bord Bia Quality Kitchen Stage
The Bord Bia Quality Kitchen Stage is a major attraction in the Food Village hosting some 25 cookery demonstrations during the 5-day event with Ear to the Ground presenter Helen Carroll on hand to interview the chefs, farmers and food producers. Bloom 2019 will see well-known chefs including Neven Maguire, Rory O'Connell, Catherine Fulvio, Edward Hayden, Paul Flynn, Fiona Uyema, Gary O'Hanlon, Shane Smith, Chef Adrian Martin, Sharon Hearne Smith and JP McMahon. New for 2019, gardening expert Gerry Daly will also take to the Quality Kitchen stage to demonstrate how easy it is to add home grown herbs into everyday meals.
Bloom Inn
Reflecting the buoyancy of the Irish drinks industry, The Bloom Inn features 27 Irish drink producers, up from 24 last year. This includes three brand new distilleries: Clonakilty Distillers, based in west Cork committed to reviving ancient malting barley varieties. Lough Ree Distillery, a family run business that combines traditional whiskey distilling methods with modern technology. Micil Distillery is Galway's first distillery to open its doors in over 100 years, and produces a unique peated poitín. This year there is also a vibrant new group of Brewery's attending, such as Ballykilcavan Brewing operating since 2018 as a brewery producing a variety of new craft beers; Mescan Brewery, founded by two vets and located on the slopes of Croagh Patrick producing Belgium inspired beers; and Wicklow Brewery, a newly established micro-brewery in Co. Wicklow.
New Businesses and Products Launching
Bloom has long provided an excellent launch pad for new food companies and products to be introduced to the market. Launching at Bloom this year is 'A Bit On The Side', a new business venture by Hilary McGrath from Oldcastle, Meath producing a range of gourmet savoury jellies that can be used as a condiment, glaze or as a base for sauces or dressings
New products set to launch in the food market include a new brand from Algaran Seaweed, Donegal called 'Bia Farraige Arann' which will include a range of seaweed and fruit concentrated juices called "Su' Arann'; Rudds, Offaly are set to launch a new Chorizo White Pudding using traditional flavours with Spanish Chorizo chunks; Gran Grans Food, Galway will launch a new range of Summer Sauces and O'Hanlon Herbs, Wicklow will trial a compostable range of living herbs where the compostable bag becomes the sleeve so that there is no need for a plastic pot.
In the Bloom Inn, Kinsale Mead Co will launch its limited release, 2019 summer mead, Hazy Summer, an Irish alternative to Pimms; Ballykilcavan Brewery, Laois will launch their new lager as well as a juicy pale ale brewed with their own barley and oats from their neighbours; Noki & Co, Dublin will launch Ireland's first alcohol-free pre- mixed Gin & Tonic flavoured drink and Wicklow Brewery will launch 'GingerKnut' Ginger Beer which will be gluten free and low in alcohol 3.4%.
Bord Bia Trade Breakfast
The 6th Bloom Trade Breakfast event will take place at the food village on Friday, 31st May where Bord Bia will welcome over 200 Irish and international buyers to meet with more than100 Irish food and drink suppliers. This event provides a unique platform for one to one contact between buyers and suppliers.
Previous Bord Bia Trade Breakfast events at Bloom have resulted in a number of significant listings for Irish companies. This includes an exclusive agreement with Sadie's Kitchen for supply of their bone broth across all Freshly Chopped outlets and the supply of Flahavan's flapjacks on the Aer Lingus on-board menu.
GIY Food Matters Stage
GIY will once again hold a series of panel discussions over the course of the five day event, focussing on the pressing food issues of the day. Featuring some of the country's most esteemed food writers, chefs, activists, journalists and business people, topics to be covered this year include 'Plant Powered & Meat Free'; 'Local Food – Global Impact', 'The Plastic Pledge'; 'Pollinator Peril'; 'Sustainable Food Cities' and 'Weather Alert;, among others.
Keeling's Display
This year not only will visitors be able to see exactly how fruit is grown on the Keeling's Farm, but visitors will be able to participate in a Keeling's Sensory trail. Keeling's teamed up with Murphy Sheanon, landscape architecture and horticulture practice to bring their visual to life. This year, kids will also be invited to create seed bombs that include nectar rich wildflower seeds to attract bees and other important pollinators into their garden. Keeling's' experts will be on hand to offer useful tips, with a schedule of growing workshops throughout the duration of the show.
Further Information
For a full line up of features visit www.bloominthepark.com or follow Bloom on Facebook, on Twitter @bloominthepark and on Instagram @bloomfestival
Returning sponsors for this year's event include FBD Insurance, Irish Independent and the Office of Public Works.