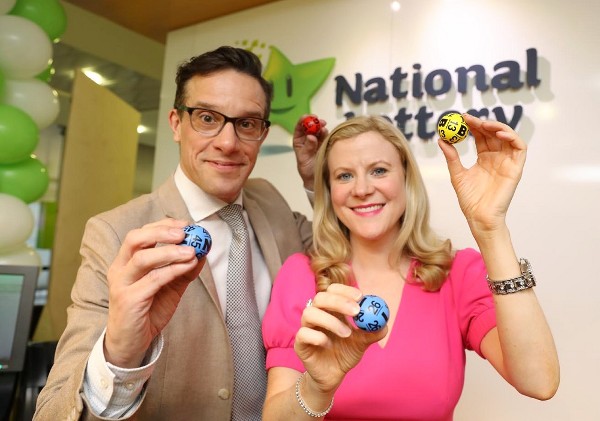 A lucky Dublin woman has won the Full House prize on the Telly Bingo National Lottery game show, worth €10,000, exactly one week after winning the exact same prize!
The awestruck woman, who was clutching a cheque for €10,000 in the National Lottery Winner's Room for the second time in a week, could still hardly believe the good news.
She said: "It's unbelievable! I'm still lost for words. The first win was just crazy and there was great excitement in the family but to do it again a week later really has hit me for six! I don't think the cheque has cleared in my bank account yet from last week's win and here I am with another one. It's amazing."
She won both Full House prizes on Thursday 27th February and Thursday 5th March and claimed the second of those cheques today. She bought her Telly Bingo tickets, for both draws, at Supervalu in Fortunestown, Tallaght, Dublin 24.
Telly Bingo players who match every number on their bingo tickets, available in National Lottery retailers all over the country, win the fixed prize of €10,000. The odds to win any cash prize in Telly Bingo is one in five and tickets cost just €2.50.
Meanwhile, this was not the only Telly Bingo winner to claim a cheque from National Lottery HQ today as woman from Co. Waterford claimed the tidy sum of €55,005 after she won the Snowball prize last Friday, 6th March. She bought her lucky ticket in the Daybreak store on the Tyrone Road, Lismore Park, Co. Waterford.
Telly Bingo gives players the chance to play Bingo from their own home - even while wearing their slippers! Every Tuesday, Thursday and Friday the Telly Bingo TV game show is broadcast RTÉ One and is presented by Declan Buckley.
Nearly 30 cent in every €1 spent on Telly Bingo and all National Lottery games goes back to Good Causes in the areas of sport, youth, health, welfare, education, arts, heritage and the Irish Language. In total more than €5.6 Billion has been raised for Good Causes since the National Lottery was established 32 years ago. In 2019 alone, €250 million was raised for local Good Causes in communities across Ireland.