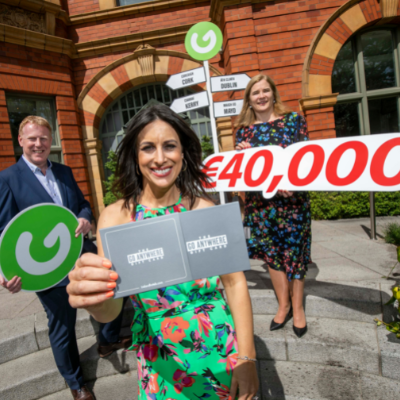 GALA RETAIL is set to give away €40,000 of staycation gift vouchers to lucky customers this Summer with its Gala Getaways promotion, which is live in stores now.
Teaming up with IrelandHotels.com for the instore promotion, the Gala Getaways giveaway will see each Gala shopper who spends over €10 in participating stores entered into a draw instore to win a €250 'Go Anywhere' gift card to put towards a staycation at one of the hundreds of Irish hotels and guesthouses partnered with IrelandHotels.com. A winner will be picked from every participating Gala store.
Speaking about the Gala Getaways promotion, CEO of Gala Retail, Gary Desmond said:
"The Gala Getaways promotion is back for another year following a great reaction from Gala customers last Summer. Awarding €40,000 worth of 'Go Anywhere' gift cards gives our winning shoppers a chance to book a well-earned getaway at some of Ireland's top hotels and guest houses.
"With a chance to win in every participating store, this is our way of thanking loyal Gala customers for their continued support and Gala retailers across the country look forward to giving their valued customers a chance to win."
The Gala Getaways promotion with IrelandHotels.com aims to encourage the lucky winners to enjoy and explore new parts of Ireland while supporting local tourism and hospitality.
Denyse Campbell, President of the Irish Hotels Federation, added: "Building on the success of last year's Gala Getaways giveaway, we are thrilled to team up with Gala Retail once again. The 'Go Anywhere' gift card prizes will give winners the chance to book into one of the hundreds of fantastic hotels and guesthouses that work with IrelandHotels.com and experience new parts of Ireland this Summer."
"With so many properties to choose from and the wealth of attractions, activities and incredible hospitality experiences to enjoy, Gala Retail is giving more people the opportunity to support Irish and staycation this Summer."
The Gala Getaways promotion will run in participating Gala Retail stores from 27th June until 31st July. Further information about the promotion can be found on the Gala Retail social media accounts and at www.gala.ie/competitions