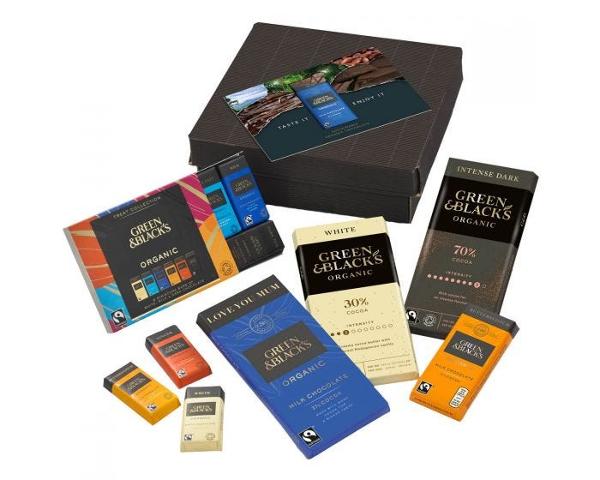 Now Green & Black's bars are measured 1 – 10 in intensity, helping you find your preference!
This year Green & Black's marks its 30th birthday with the announcement of its new Intensity Scale which brings to life each bar's unique balance of delicious taste cues. Eric Matthews, head chef at Michelin starred restaurant Chapter One, will also lend his taste expertise to the brand demonstrating exciting food pairings for a unique tasting experience for Green & Black's fans.
Developed alongside taste experts including Brandt Maybury, Green & Black's Taste Ambassador, The Green & Black's intensity scale was derived from exploring a range of important qualities that affect chocolate preference, defined by varying degrees of cocoa, levels of sweetness, and overall flavour intensity. Each bar in the Organic range is measured from one (the least intense) to ten (the most intense) so, just as you would choose your coffee, you can see at a glance which bar will suit you best. Essentially the numbers match the chocolate!
Green & Black's Tastemaker, Eric Matthews says, "I'm a big believer in focussing on flavours and ingredients that are organically and sustainably sourced. Simple ingredients are at the heart of Green & Black's and I look forward to demonstrating the flavours with surprising food pairings. Chocolate is proving more versatile than ever thanks to its ability to be paired with sweet, savoury, or even tangy flavours. I look forward to showcasing unexpected pairings that will give chocolate fans a real immersive taste experience."
Creator of the Intensity Scale, Brandt Maybury, said: "Many people know and love Green & Black's for the intense, rich character of our dark chocolate which we first launched back on 1991. However, we know that many other people are wary and think that all of our chocolate is very intense and bitter-sweet, when in actual fact we have a wide variety of chocolates and other ingredients which span a broad spectrum of intensity. So, we created the intensity scale to help guide people and allow them to find a bar that matches their current taste and preference when it comes to intensity. Whether you love the creamy, sweet character of our vanilla-rich white chocolate, or the indulgent, buttery nature of our milk chocolate Butterscotch bar, there's definitely a favourite for everyone in our range, not just the Dark 70% and 85% lovers".
Green & Black's Intensity Scale will feature on the new packaging of Green & Black's Organic bars, available in stores nationwide now, RRP €3.10 (pricing is at retailer discretion).
For more information on the Intensity Scale and pairings, please visit: https://www.greenandblacks.co.uk/intensity-scale