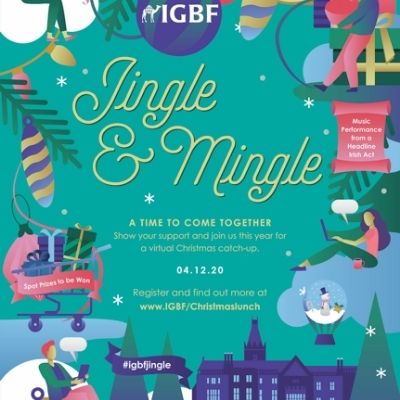 Normally on the first Friday in December every year, over 1,200 people from Ireland's grocery industry gather at the Clayton Burlington Hotel for the annual Irish Grocers Benevolent Fund Christmas Lunch. 2020 would have been the 57th such event bringing together suppliers, retailers and support companies to raise valuable funds for the charity.
Due to Covid-19, it won't be possible to meet in our usual way on the 4th of December for the Grocers Christmas Lunch. But rather than miss the opportunity to "kick off Christmas", the IGBF will be hosting a "Virtual Get Together" that day. Themed "Jingle & Mingle" (#igbfjingle), the event encourages people within the grocery industry to take part in the IGBF's first virtual Christmas event to help raise funds and connect socially with industry colleagues. It is simple. We are encouraging the trade to invite some friends or colleagues within their grocery network to make a date that day to "Jingle & Mingle" virtually with them.
Then at 3pm that day, the IGBF will host a virtual session which participants can log into, which will encompass a short address by the current President of Appeals Sharon Buckley & Leonard Hegarty Chair of the IGBF. Participants will then be treated to an intimate gig with a special headline Irish artist. Our aim is create an opportunity within the grocery industry to 'Jingle & Mingle' together but safely apart!
Tickets cost €50 each with a corporate package also available and everyone who registers for the event will also be entered into a special Christmas Raffle draw for a host of prizes. The top prize will be a much sought after luxurious 2 Night Bed & Breakfast stay in the 5* Adare Manor, Co. Limerick, with dinner in the Michelin star Oak Room Restaurant, a round of golf and an Aromatherapy Massage for 2 people. There are also weekend breaks, discount vouchers and hampers galore to be won!
Any amount, great or small, goes a long way to improve the lives of the people struggling within the FMCG sector, which is so badly needed, this year more than most when many of our traditional fund raising events had to be postponed - so please support this event and join us on Friday the 4th December.
This year's virtual event is hosted by Hotel Solutions and kindly sponsored by The National Lottery, Diageo and Mondalez. The 'Jingle & Mingle' theme was developed by Tap Creations, who also designed the festive look and feel. And thanks to the TWIG committee for creating the concept and making it all come together.
Full details of the event on Friday 4th December 2020, corporate packages and timings will be available on www.IGBF/Christmaslunch. You can register directly to purchase your tickets through the IGBF Website itself or email Hotel Solutions DMC at info@hotel-solutions.ie, or phone Michelle Thornton on 087 9297057 or Stuart Thornton on 086 0681701.