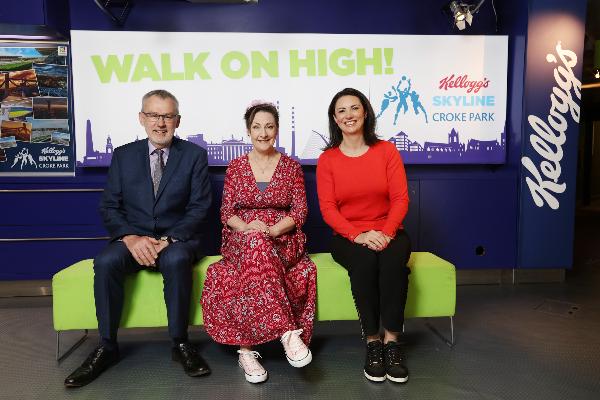 Ambassador Pauline McLynn launches new partnership as she takes in the sights
Sponsorship follows 10 successful years of partnership with Kellogg's GAA Cúl Camps
Kellogg's has announced its title sponsorship of one of Dublin's most iconic tourist attractions, the Skyline Tour at Croke Park. Renamed the Kellogg's Skyline, this sponsorship announcement follows a successful 10-year long partnership between Kellogg and the GAA through their annual summer camps, Kellogg's GAA Cúl Camps, which has seen more than 1.5 million participants since 2006.
Irish actress and best-selling author, Pauline McLynn, was on hand to officially open the Kellogg's Skyline Tour at Croke Park, which offers tourists an in-depth storytelling experience with experienced guides. As Irish icons and storytellers, McLynn and the Skyline are a perfect match with each Kellogg's Skyline guide personalising the tour by pointing out their favourite landmarks and sharing their own stories, not only about Dublin City, but also the iconic stadium below the sky-high walkway.
Making up 25% of Croke Park's annual visitors, the Skyline Tour sees an average of 25,000 visitors annually from school and GAA club tours, to corporate visits and overseas tourists. The Skyline attracts visitors from across the globe and has even had the honour of hosting some famous faces over the years including American country music singer, Garth Brooks.
From 44 metres above Dublin, visitors can take in panoramic views of the capital looking out at some of Dublin's most famous landmarks including the Dublin and Wicklow Mountains, the Poolbeg Towers and the Spire. In the winter months, visitors can take dusk tours of the Skyline and for those looking to elevate their Valentine's Day plans, romantic dusk tours are run every year on 14th February.
Speaking from the rooftop of Croke Park, Irish icon and Kellogg's Skyline ambassador, Pauline McLynn said: "I'm thrilled to work with Kellogg's and the GAA on this exciting new sponsorship. Storytelling is not only my career but also a true passion of mine and as the Kellogg's Skyline Tour holds some of the nation's most inspiring stories, one only needs to take the tour and hear the tales from some of incredible tour guides to understand how this space has impacted so many people across Ireland and beyond."
Sarah Ferguson, General Manager for Kellogg Ireland said: "Kellogg's is very proud to be the new title sponsor of the Skyline Tour at Croke Park. Building on our 10-year partnership with the GAA through Kellogg's GAA Cúl Camps, we are delighted to have the opportunity to expand this relationship further. We can't wait to welcome more visitors enjoying Croke Park and Dublin City from a new and exciting perspective."
GAA Uachtarán CLG Larry McCarthy said: "We are delighted to welcome our new Skyline sponsor Kellogg. The Skyline tour is an exciting and much-loved part of a visit to Croke Park so it's fitting we have teamed up with such an exciting and much-loved brand. I hope lots of visitors can enjoy the fabulous Kellogg's Skyline Tour, meet our wonderful tour guides and see the sights of the city this summer and beyond."
For more information on the Kellogg's Skyline, please visit www.crokepark.ie/tours/skyline or www.kelloggs.ie