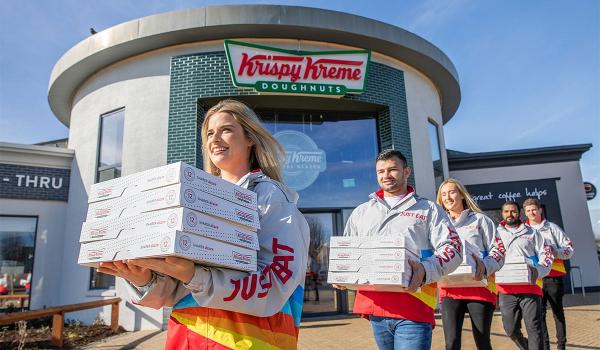 Krispy Kreme is underlining its commitment to the Irish market, through expansion of its brand footprint across the country in 2021
From next Monday 12th April, Krispy Kreme fans will be able to get their hands on the brand's fresh doughnuts in a selected number of Tesco Ireland stores and Circle K's Kill North store on the N7. This is part of a wider expansion plan for the iconic American brand here.
The first phase of Krispy Kreme's introduction to retail stores includes 20 locations including Tesco Extra stores in Clarehall, Naas, Maynooth and Balbriggan and Tesco Superstores in Tallaght, Stillorgan, Bloomfields, Bray and Ballybrack along with Circle K Kill North. All Krispy Kreme doughnuts are made in its flagship Blanchardstown store and delivered directly to each store every day – ensuring the fresh, melt in the mouth doughnuts that Krispy Kreme are famous for! Customers can choose from firm favourites including Original Glazed, Chocolate Dreamcake, Lotus Biscoff and Nutty Chocolatta.
Customers can choose their own dozen from the delicious range of single doughnuts along with Bites and Minis from Krispy Kreme's state-of-the-art digital display cabinets. The cabinets (which were rolled out in the UK last year) include digital screens with the brand's Made in Ireland tagline and can include bespoke messaging throughout the year. Motion-activated digital shelf edge labels offer product information – including full ingredient specifications, which allow customers to check for allergens. (see image attached)
This Summer will also see the introduction of a selection of new Krispy Kreme stand-alone stores (to be announced) including the much-anticipated flagship 'Hot Now Experience' store in Dublin's iconic Central Plaza, Dame Street. The Hot Now experience means Krispy Kreme will be serving piping hot, freshly made glazed doughnuts fresh off the line which customers can view being made with their own eyes!
Since opening in 2018, the phenomenal success of the Blanchardstown store has enabled the business to delight customers, support local people and suppliers, and positively engage with community stakeholders. The desire of the business is to ensure evolving customer needs are met and they are always offered the best experience possible, any place and anytime. The expansion of Krispy Kreme's footprint across Ireland is a core part of this journey. In 2021, Krispy Kreme is on a mission to create 5m smiles in Ireland, via its limited-edition Doughnuts for seasonal occasions including St. Patrick's Day, Easter, Christmas, and Halloween, Hot Now experience and through the amazing service the staff provide.
Speaking about this, Declan Foley, Krispy Kreme Country Manager for Ireland said; "We are really excited to be expanding our presence in Ireland through select Tesco and Circle K stores and hope to build on the incredible love for the brand that we have seen from our Irish customers to date. The investment required in these cabinets represents a significant capital expenditure for our business and helps deliver a magical brand experience. In addition to the cabinets our new 'Hot Now' store in Central Plaza will be a fully immersive experience for Krispy Kreme fans as they get too see the product from start to finish! We look forward to continuing to bring even more joy to our customers and creating smiles with these new developments, which also demonstrates our commitment to investing in the Irish market for the long-term."
John Brennan, Fresh Foods Director, Tesco Ireland added, "At Tesco, we're always looking to add a variety of products to our range that will provide more choice for our customers. We're delighted to partner with Krispy Kreme to bring this launch to life in select stores in the coming weeks."
Mary McDonald, Senior Category Manager for Food Development at Circle K Ireland concluded: "We're delighted to be the first forecourt retailer in Ireland to partner with Krispy Kreme. At Circle K, we strive to make our customers lives easier and now, motorists can refuel at our Kill North facility in more ways than one. We look forward to sharing details of more stores that will be making Krispy Kreme's delicious doughnuts available to customers soon".
Whilst the impact of COVID-19 on business operations has been significant, the company has established working practices that ensure doughnuts and drinks can be provided safely and in line with the different levels of restrictions in Ireland, with the ability to remain flexible and ready to adapt services and processes as needed.
Krispy Kreme was established in 1937 when Vernon Rudolph brought to life his secret yeast-raised doughnut recipe in an old warehouse in North Carolina, USA. He originally started marking his delicious doughnuts to sell to grocery stores. However, he noticed quickly that the irresistible smell of those same doughnuts destined for delivery was wafting out onto the streets and into the noses of passers-by. But, being on their busy commute, they kept walking instead of coming inside. So Vernon, quite the visionary when it comes to things with holes, cut a hole in the wall and started selling doughnuts to people walking by – the original doughnut retail shop, Krispy Kreme, was born.