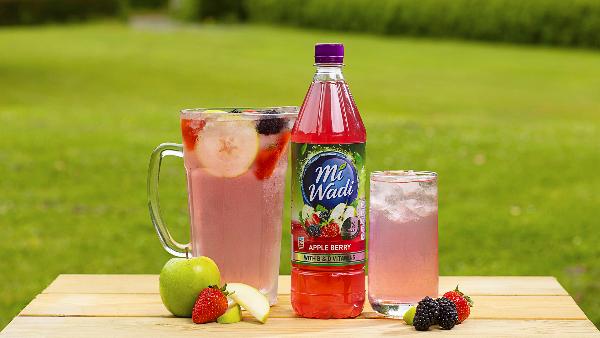 Available in Regular/No Added Sugar/0% Sugar ranges
MiWadi, Ireland's number one squash brand and family favourite for over 90 years, has launched an extensive €1 million marketing campaign to support a new look for its entire portfolio as well as the reformulation of the popular MiWadi 0% Sugar range, which is now fortified with Vitamins B and D.
The creative platform for the MiWadi campaign invites consumers to 'Liven Up Your Water and Let There Be Fruit' and will be executed with a brand new TVC, in-store, PR, social and a national broadcast media partnership with Today FM.
The campaign which runs throughout the summer months sees the debut of a new TVC that captures the wisdom of childhood, inviting everyone to wake up their water with the great taste and real fruit of MiWadi. The 'Let There Be Fruit' campaign puts taste and enjoyment at the heart of water moments and encourages consumers to 'Liven Up Your Water', reminding them that squash is a more enjoyable and tasty way to drink more water, wherever, whenever.
With 64% of Irish parents[1] spending more quality time with their families at home in the last year, MiWadi has partnered with a host of family-focussed digital influencers to encourage families to share their back-garden staycation experiences on Instagram to be in with a chance of winning a family staycation to Delphi Adventure Resort.
MiWadi is the number one squash brand in Ireland and with a focus on health and innovation at the core of the brand, this summer MiWadi reformulated it's 0% Sugar range to include Vitamin D. Vitamin D is very important in our diet, but it can be difficult to achieve the recommended daily intake. Also known as the 'sunshine vitamin', Vitamin D is largely produced in the body through exposure of the skin to sunlight. It has been reported that Vitamin D deficiency is very prevalent in Ireland for a variety of reasons, one being that there is insufficient sunlight to enable enough production of Vitamin D by the body to reach the recommended daily allowance (RDA). In the last 18 months Vitamin D from sunlight exposure has also decreased due to more people working from home[2].
Every bottle of the MiWadi 0% Sugar range is now fortified with Vitamins D, which helps support your family's immune system, supports the maintenance of strong bones and growth of healthy teeth. Vitamin D contributes to the normal functioning of the immune system and maintenance of normal bones and teeth.
Caroline Hyde, Marketing Manager for MiWadi Ireland said: "Through research, we knew that the main motivators of shoppers in the squash category are health related with consumers showing preferences for products that contain less sugar, natural ingredients and additional benefits. We've invested heavily in a nationwide 360 campaign encompassing a full brand refresh, PR and digital, in store and media to bring the 'Liven Up Your Water and Let There Be Fruit' platform to families throughout Ireland this summer."
MiWadi 0% Sugar is available in all major supermarkets and convenience stores nationwide from RRP €2.69 for a 1 litre bottle that makes up to twenty glasses.
MiWadi, whose parent company is Britvic Ireland, is a verified member of Origin Green, the only sustainability programme in the world operating on a national scale, that unites government, the private sector and food & drink producers through Bord Bia, the Irish Food Board. MiWadi the family favourite, is the category leader and accounts for more than half (67%) of the squash market in Ireland[3].
---
[1] Research caried Bord Bia Indicators Barometer Report
[2] Department of Health Article Reporting on Vitamin D Deficiency in Ireland, April 2020
[3] MiWadi has 67% value market share of the Squash Category in ROI
(Source: AC Nielsen Total Squash Market ROI MAT 20th June 2021)