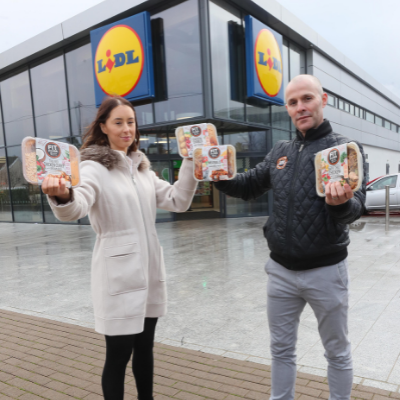 Lidl Ireland is proud to announce that it has agreed a multi-million-euro deal with Dublin-based Dublin Meat Company and its 'Fit Foods' ready meals. The contract is worth €11 million and will see the Irish supplier's Fit Foods ready meals on shelves across Lidl's 214 stores in Ireland and Northern Ireland.
Dublin Meat Company is a 100% Irish owned family run business, founded by brothers Brian and David O'Leary. In 2015, the company noticed changes in its customer's eating habits and an increased demand for convenient, healthy meal solutions. Seeing this as an opportunity, a range of macro-friendly, and more importantly, tasty ready meals were developed, and the Fit Food range was born.
Lidl Ireland began working with Dublin Meat Company in January 2021, bringing the range of healthy ready meals to its customers across Ireland and Northern Ireland. The freshly prepared meals are packed in 100% recyclable trays and come in a range of different flavours including:
Meatballs with Wholemeal Pasta, €3.99 / £3.79
Clean Chicken Curry, €3.99 / £3.79
Thai Red Curry with Brown Rice, €3.99 / £3.79
Wholemeal Pasta, €3.99 / £3.79
Sweet Chilli Chicken with Wholewheat Noodles, €3.99 / £3.79
Turkey Burrito, €3.99 / £3.79
Chicken, Chorizo with Baby Potatoes, €3.99 / £3.79
In 2022, Dublin Meat Company will expand the range available at Lidl to include an exciting new Breakfast Club range.
Speaking on the deal, Brian O'Leary, Managing Director at Dublin Meat Company, said: "Working with Lidl was the next step in growth for our business. Its professionalism and support in backing small Irish businesses like ours has allowed for exponential growth and exposure of our brand throughout the four corners of Ireland. We look forward to continuing our partnership with Lidl for years to come."
Commenting on the new deal with Lidl Ireland, Enya Rooney, Senior Buyer at Lidl Ireland and Northern Ireland said: "We're lucky to work with amazing local suppliers at Lidl. Dublin Meat Company's creativity and innovation really shines through in the high-quality meals they produce and customers are responding really well to the range. At this time of year people are getting back to healthy eating and we are proud to exclusively supply this product in the Irish Market.