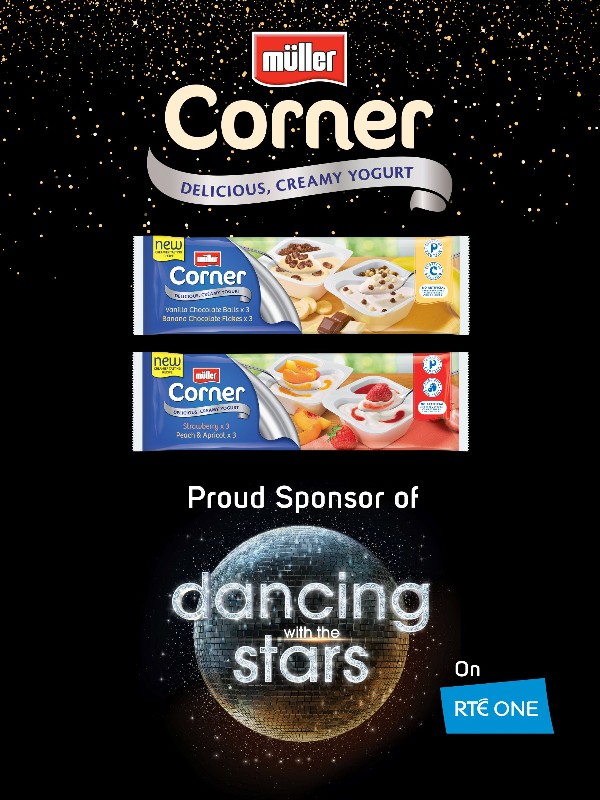 Müller has returned as a sponsor on RTÉ's Dancing with the Stars, the country's most popular celebrity dance-off show.
Available now in store, the multipack includes Müller's best ever new Müller Corner recipe which contains more protein and has a thicker and creamier texture. It includes Strawberry, Vanilla Chocolate Balls and Milk Chocolate Digestives.
As the Official Yogurt of Athletics Ireland targets sustainable and profitable growth, it is continuing to strengthen its core brands, like Müller Corner and Müllerlight, by bringing its brand to life and adding further inspiration to the yogurt category.
Müller manufacturers major brands like Müller Corner, Müllerlight and Müller Rice, and produces chilled desserts under licence from Mondelez International, and supplies the private label yogurt market from a dedicated state of the art yogurt facility.
Michael Inpong, Strategy and Marketing Director at Müller Yogurt & Desserts said:
"We're so excited to partner with Dancing with the Stars again in 2020. Not only does it give us
the opportunity to engage with the Irish market and raise awareness of Müller, but the series is
perfectly aligned with our brand purpose, which is to inspire happy, healthy lifestyles."