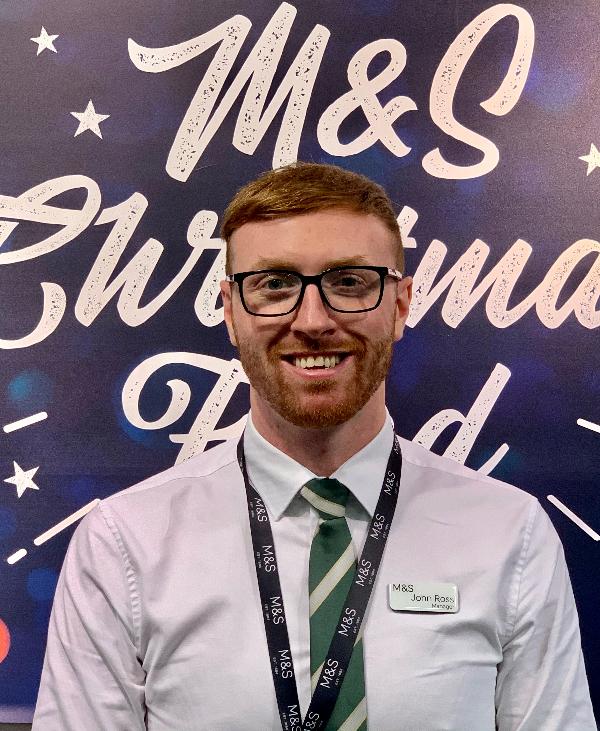 This Christmas, M&S Food is putting charity firmly at its heart. In a year when charity funding has declined almost 25%, M&S Food is proud to donate €10,000 to Dublin based charity, Inner City Helping Homeless in recognition of the volunteering efforts of local M&S colleague John-Ross Reilly as part of its very special Christmas campaign. A sign at the front of the store will highlight John-Ross and Inner City Helping Homeless' brilliant work to all customers shopping at M&S Dublin Mary Street this Christmas.
M&S Food has selected 10 colleagues from across the UK and Ireland who are its most active charity volunteers, with donations going towards the colleagues' chosen charities. John-Ross Reilly, Sales Advisor at M&S Dublin Mary Street, has been chosen for his dedication to Inner City Helping Homeless (ICHH). The €10,000 donation will go towards helping the ICHH team fund its nightly support service that provides access to beds, sleeping bags, food and case management referrals to the homeless in Dublin. John-Ross has been instrumental in setting up fundraising events on behalf of M&S, the proceeds from which have helped the charity to buy a larger van to extend its support to help people outside the greater Dublin area. John-Ross and many of his Dublin Mary Street colleagues also go out at night to volunteer with ICHH.
John-Ross Reilly, Sales Advisor at M&S Dublin Mary Street, who has worked at M&S for 13 years said; "I am thrilled to have been chosen by M&S Food to donate €10,000 to my chosen charity. At M&S we're proud of the role we play in our local community and it's fantastic we can donate a monumental amount, especially during these unprecedented times. 2020 has been a difficult year for all of us and we are thrilled to support our brilliant charity partner. As one of the original members involved in setting up ICHH, I know how vital all donations are to help continue this essential outreach service."
Anthony Flynn, CEO of Inner City Helping Homeless commented: "Local charities are coming under immense pressure and need support now more than ever during these times. This generous donation from M&S is essential for us to support our community, whether that's through delivering practical supports to people that are sleeping rough; supporting individuals and families living in emergency accommodation or below the food poverty line with our food redistribution programme; or providing case management and mental health supports for people experiencing homelessness. It's incredible to see the phenomenal support given to us by John-Ross and the whole team at M&S Dublin Mary Street."
This week, also sees the airing of Jeremy Irons M&S Christmas food ad. In the fourth of nine ads, each one voiced by a world-famous actor, Jeremy has selected two Irish charities close to his heart – The Hope Foundation and Irish Community Rapid Response – to which M&S Food will make a donation on his behalf.
Jeremy Irons says: "I am so proud that merely by my endorsement of some great food, M&S is supporting both kids in Kolkata who have so little, and sick people in rural Ireland to get emergency help. I congratulate M&S on their inspiring campaign and hope it leads to further humane initiatives as we battle against and emerge from this Global Pandemic."
This is just part of M&S's long-term commitment to doing good. This Christmas, M&S in Ireland will support five nominated charities close to the hearts of its store colleagues and customers. Along with Inner City Helping Homeless, the retailer will also be fundraising for Pieta House, Depaul Ireland, Focus Ireland and Feed Cork.