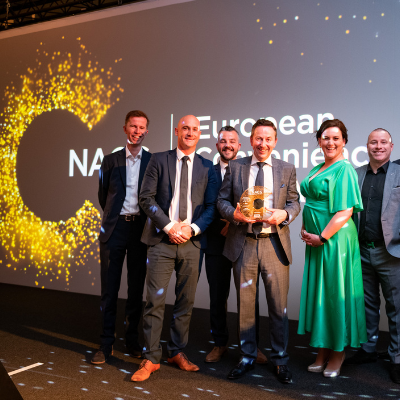 An Irish service station has beaten off strong competition from all over Europe and this week, Maxol Ballycoolin was named European Convenience Retailer of the Year.
The award was presented to Maxol Ballycoolin, Dublin during the 2022 NACS Convenience Summit Europe in Berlin with the judges agreeing that the service station is an excellent representation of how Maxol is future-proofing its business by focusing on customer needs and delivering a food-focused experience.
Excellence and innovation
The NACS European Convenience Retail Awards recognise and promote convenience and forecourt retailing excellence in Europe and provide retailers with the opportunity to showcase their innovation and creativity to the global retailing community. Maxol is no stranger to NACS awards and last year, won the 2021 NACS European Convenience Retailer Best of the Best Store Award for the redevelopment of its service station in Newbridge, Kildare.
Brian Donaldson, CEO of The Maxol Group said; "Being recognised on the European stage as a leader in convenience retailing is hugely rewarding and I'm thrilled for all of the team that have worked so hard on achieving this award for Maxol Ballycoolin. This award recognises how Maxol is transforming from being a traditional forecourt retailer to becoming a leader in innovation and creating the service station of the future. Our partner Aramark and their dedicated team at Maxol Ballycoolin are incredible ambassadors for the Maxol brand both in Ireland and now, across Europe."
Aramark, the global specialist in food and facilities management services, operates the Ballycoolin service station on behalf of Maxol and speaking about the win Mark Cribbin, Account Director at Aramark Ireland said, "This award is proof of the success of the Maxol - Aramark partnership, which continues to go from strength to strength. We are so proud of our people in Ballycoolin who bring the best of service to both the local community and the significant passing trade in the area. Ballycoolin is a very busy service station and consistently delivers the highest of standards and I know there will be some well-deserved celebrations to mark the win over the coming days."
€1.25m investment - about Maxol Ballycoolin
Maxol Ballycoolin opened in 2017 and such is the pace of change at Maxol, it has undergone two transformations in just five years.
In 2021, following a €1.25 million investment programme, Maxol Ballycoolin was upgraded with the addition of a first floor seating area, bringing total seating capacity to 100 where customers can enjoy the store's extensive fresh food offering and freshly brewed ROSA coffee, meet with friends or colleagues or make use of quiet spaces to work.
As part of the investment programme, Maxol has redefined the food offering at Ballycoolin moving from rotational offerings to permanent foodservice concepts including barista coffee offering from Insomnia, a Burger King with a drive-thru and a new and larger Maxol Deli.
Outside, new car parking spaces have been added and Maxol Ballycoolin can now accommodate 53 vehicles. There's a great outdoor seating area, which has been enhanced with additional benches, screens, lighting and umbrellas and the space benefits from a rebranded car wash facility with multiple payment options.
On the forecourt, two additional premium fuel pumps now offer Maxol Premium Fuel and infrastructure has been installed for a new EV Charging hub to facilitate 3 x 150kW chargers serving 6 EV charging parking spaces
Staff at Maxol Ballycoolin have been trained in the GUEST Customer Service model from Maxol's award winning Customer Service Training Programme, ensuring customers get the Maxol Guest treatment every time they are in store.
For more information on Maxol visit www.maxol.ie.
ABOUT NACS
NACS is the global association for convenience and fuel retailing representing members from more than 50 countries.