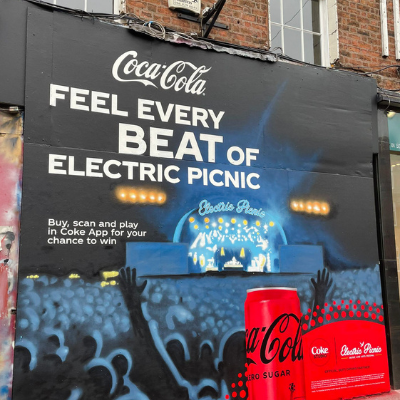 MediaCom Ireland, the leading media planning and buying agency, has partnered with Coca-Cola and Talon Ireland to launch a high impact media campaign to promote Coca-Cola's Coke Studio™ music platform and summer promotion. The summer of 2022 will be one of Coca-Cola's biggest with an all-encompassing media plan running from 1st June up to the 28th August 2022.
The campaign centres around Coca-Cola's Coke Studio™ platform which connects emerging musical talent with audiences around the world and an on-pack prize promotion offering consumers the chance to win once in a lifetime music experiences.
The nationwide media campaign will be launched in partnership with Talon Ireland across AV and Out of Home (OOH) advertising platforms. This promotion will be amplified through ticket giveaways on Media Central's Youth Network of highly coveted and sold-out VIP passes to Longitude and Electric Picnic, with accompanying brand spots running throughout the month of July.
Coke Studio is the newest expressions of Real Magic™ – the new global brand philosophy that Coca-Cola introduced late last year. The core of the platform is the belief that our differences make the world a richer place in which to live – and that "Real Magic" happens when we come together through shared experiences, both digitally and in real life.
To maximise reach and drive awareness, the team has developed one of the most high-impact OOH plans seen to date in the Irish market. The campaign will be live in Dublin for five cycles back-to-back, with an additional two bursts each delivering a minimum 50% national reach. With high impact placements such as the Dundrum Dx Screen, Stephen's Green Screen and multiple Building Banners and Murals around the city, Coca-Cola will be the brand synonymous with Summer 2022.
Cathal O'Donovan, Account Director at MediaCom Ireland said: "We are beyond excited to see the launch of the Coca-Cola summer music campaign. The campaign will reach people all around the country, particularly in Dublin where we are rolling out the strongest OOH plan we have ever put together. Our dynamic OOH campaign is going live across five cycles, including interchanging Building Banners and Murals which will appear all round the city over the next three months."
Gavin Gillespie, Brand Manager at Coca-Cola: "Coke Studio is a direct extension of Coca-Cola's Real Magic philosophy. It celebrates the unique ability of music to unite and uplift and provides a connection point for fans in Ireland and around the world to come together and enjoy a new experience. We're delighted to partner with MediaCom and Talon this summer to bring this iconic campaign and platform to life with Irish consumers."
To elevate the campaign, a spectacular video asset will be showcased in 90 second bursts at cinemas across Ireland, with short versions running across TV, Broadcaster Video-On-Demand (BVOD) and Online Video (OLV) to deliver mass reach.
The association Coca-Cola has with music will be extended into OLV and online audio. Spotify users will also be able to access a dedicated Gen Z Hot Hits Playlist sponsored by Coca-Cola, bringing together the best of summer music.