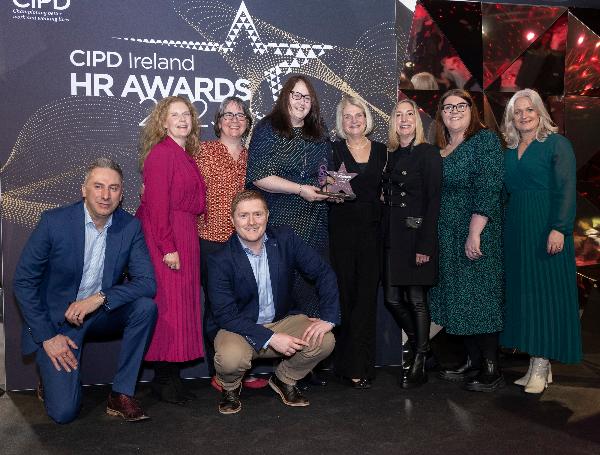 10 March 2023 – Musgrave, Ireland's leading food retail, wholesale, and foodservice company, has been named 'Large Learning & Development Organisation of the Year' at the annual Chartered Institute of Personnel & Development (CIPD) awards.
The prestigious award recognises Musgrave as an organisation that has demonstrated strong links between organisational development activity, the achievement of business goals, and the implementation of a series of learning and development strategies to boost skills and improve team performance.
The award comes after Musgrave has invested significantly in developing leadership capabilities and future skills at entry level across the business.
Considered the most prestigious HR awards in Ireland, the CIPD Ireland HR Awards reflect the powerful impact and reach of the HR profession. The robust multi-tiered judging process means that award winners are noted among their peers and within the industry as having achieved the top tier of excellence within their field.
Anne Rigney, Director of Talent, Learning & Development, Musgrave, said: "We are honoured to be awarded the Large Learning & Development organisation of the year at this year's CIPD Awards. The investment in our leadership capability and future skills at every level, and in every part of our business - be that in our retail stores, our warehouses, out on the road and in offices - is critical to the sustainable growth of our business and our people. We believe anything is possible once we have the right mindset and skillset. It is fantastic to see programmes on our Leadership Pathway, and our future skills programmes such as Data, Bakery, Driver and Design academies, getting this level of recognition. We are proud to be able to offer people a diverse range of exciting and fulfilling career opportunities across our business and we encourage people to come and join the Musgrave team."
In addition to winning 'Large Learning & Development Organisation of the Year, Musgrave was also shortlisted in the 'Embedding a culture of workplace wellbeing' and 'Flexible and hybrid working' categories.
Musgrave is proud to offer a wide range of exciting career opportunities across our business and all of our brands, to find out more about the opportunities available and to apply, visit www.musgravegroup.com/careers