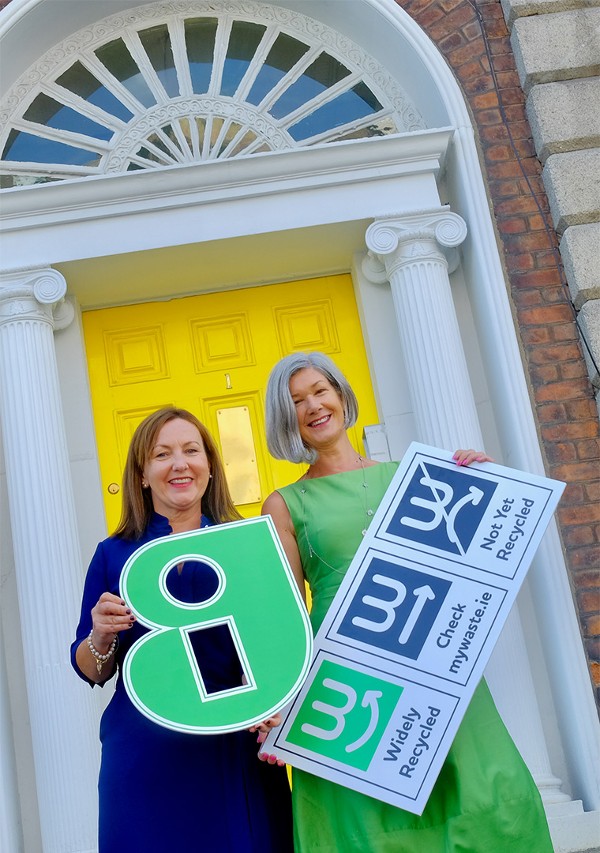 Guaranteed Irish supports mywaste.ie labelling system, unique to Irish waste collection.
Guaranteed Irish has teamed up with mywaste.ie, Ireland's official guide to managing your waste, to call on households and businesses nationwide to make the right choices when disposing of waste. The initiative, developed by the Regional Waste Management Offices, outlines a set of recycling labels specific to the Irish market as well as a citizens' guide to effective waste disposal.
In Ireland, waste management operates differently than across Europe, with most packaging materials accepted at the kerbside being exported for recycling or disposal. It is therefore vital that Irish consumers dispose of their packaging correctly and have access to the right information, specific to the Ireland, in order to do so. As well as providing a labelling system, unique to Irish households and businesses, on www.mywaste.ie you'll will find everything you need to know on how to manage your waste responsibly and efficiently.
As the call for immediate climate action takes centre stage in the global political agenda, Guaranteed Irish is encouraging its network of 600+ business members across Ireland to take a proactive approach to responsible waste management at a local level. From recycling waste using the mywaste.ie labelling system, to incorporating the labels in end user packaging design and sustainable business practice in the workplace, efficient recycling at a local level can make a significant impact on the climate and the community.
The Climate Action Plan to tackle climate change, published by Minister for Communications, Climate Action and Environment, Richard Bruton T.D. in June this year, commits to working with businesses in Ireland to improve labelling to avoid recycling-related confusion. As well as providing a labelling system, unique to Irish households and businesses, mywaste.ie provide information on waste services in your locality, recycling facilities, information on preventing, reusing and disposing of waste.
Minister Bruton said, 'People want to do the right thing when it comes to recycling but it can sometimes be confusing especially with plastics, to know which bin to use. These new labels will clearly show when to recycle or dispose of an item and I encourage all retailers, manufacturers and producers to take up this useful initiative. The labels are being introduced at a time when two thirds of the plastic used by industry in packaging is non-recyclable in Ireland today. This is just one initiative being put forward to encourage enterprise to reduce their use of non-recyclable materials and use recycled, recyclable packaging.'
Declan Breen from mywaste.ie said, 'Consumers have already voted with their euro, demanding less packaging and single use plastic, indicating a strong willingness to reduce waste where possible and recycle more. The new recycling information labels will greatly assist consumers in their determination to recycle effectively within our unique waste management system, providing a clear indicator as to what can be recycled here. We already have interest from major retailers in the new labelling system, and we look forward to rolling it out free of charge to producers, manufacturers and retailers.'
'Guaranteed Irish is supportive of the new labelling system that removes any confusion and ambiguity and is encouraging all producers and manufacturers to apply for the new Irish recycling information labels, to assist the consumer in their shopping and waste management habits.' said Brid O'Connell, CEO, Guaranteed Irish.
Guaranteed Irish supports sustainable businesses in Ireland in a proactive approach to tackle climate change. Currently, Guaranteed Irish has a network of over 600+ businesses nationwide across various sectors, including Dublin Port Company, Smurfit Kappa, Kingspan, KPMG and more.