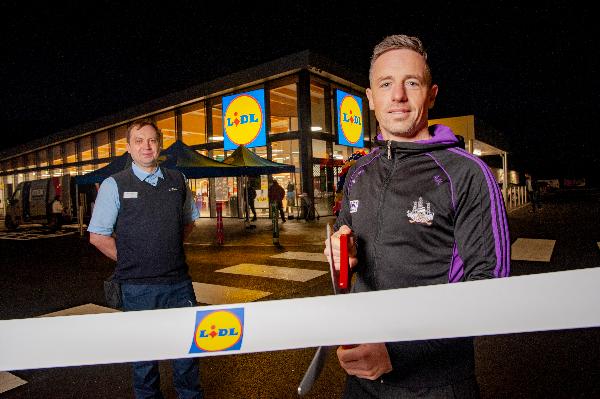 More Than 10 New Local Jobs Created for Kanturk Area
Lidl Ireland is proud to announce the opening of its new store in Kanturk, Co. Cork, on Thursday 19th November. Lidl embarked on an ambitious reinvestment programme in order to futureproof its presence in the town. The retailer made the decision to build a brand new store on Banteer Road, where it has traded since 2008, replacing the existing store with a modern new build, in order to offer its growing customer base an improved shopping experience. The opening of this new building will ensure thousands of customers in the Kanturk area have improved access to Lidl's ever increasing product range along with their unbeatable prices. More than 10 new jobs have been created additionally in the locality.
Cork hurler Anthony Nash who plays as a goalkeeper for club side Kanturk and at inter-county level with the Cork senior hurling team was on hand to officially open the store this morning with shoppers delighted to see a familiar local face.
A welcome feature of this modern new build is an expanded bakery section, welcoming shoppers daily with the smell of freshly baked breads and pastries, one of Lidl's most popular ranges. A Lidl to Go coffee machine is also available giving customers the option of a wallet friendly hot beverage for only €1. The new building is bright and airy with a spacious interior layout, high ceilings and wide aisles creating a comfortable shopping experience for customers, when compared to the previous store. 143 convenient car park spaces are provided on site, including reserved spaces for families and disabled shoppers.
The new store is built with sustainability in mind and incorporates a range of environmentally friendly features including an ISO 50001 certified Energy Management System, a solar panel system and 2 electric vehicle charger spaces, enabling customers to charge their electric vehicles free of charge whilst they shop. Lidl Ireland continues to lead the way in the area of sustainability, through its responsible sourcing from over 230 local Irish suppliers and its protection of the environment through decreased climate impact and continuous improvements in resource efficiency. All this is achieved whilst maintaining the lowest prices in the market, to ensure Lidl remains the cheapest place to shop.