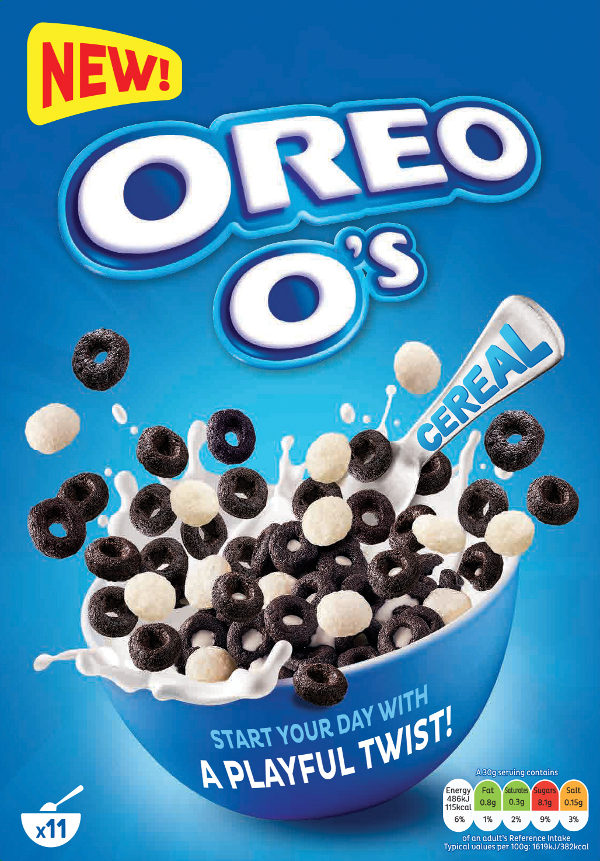 A brand-new cereal, Oreo O's, is launching in the UK and Ireland this month, aimed at filling the gap in the cereal market for a more indulgent, adult proposition.
Utilising the iconic features of Oreo's, the new cereal contains delicious crunchy cocoa hoops combined with vanilla flavour discs and aims to appeal to adult shoppers who are looking for a unique treat, to enjoy at breakfast or any other time of day.
The tasty sector is the largest and fastest growing sector in the cereals category, up 23% in the past three months[1]. Taste-led cereals also bring more new shoppers to the aisles than any other type and Oreo O's is confident it can be a key driver of incremental category value in the months ahead.
The new cereal taps into the power of the billion-dollar Oreo brand. The UK is the 3rd biggest market for Oreo, present in one in four households.
The product launch will be supported with instore and digital marketing assets from November, as well as supported via Oreo's main social media channel.
A spokesperson for Oreo O's said: "Oreo is a global phenomenon and we're really excited to introduce them to the cereals market for the first time in the UK. Aimed at adults looking for an indulgent breakfast or a special treat at any time of day, we think Oreo O's offer a strong growth opportunity for the cereal category.
"With chocolate cereal shoppers the most valuable in the category[2], and the Oreo brand already showing it can successfully translate to different formats, we believe this new cereal can introduce new customers to the aisle and become a beacon product for the tasty cereal segment. We have big ambitions for the brand and will be supporting the launch with an instore and online marketing drive."
Oreo O's are planned to launch across grocery, convenience and wholesale for €4.99 (350g).
They are currently listed in Dunnes, with further listings set for 2021.