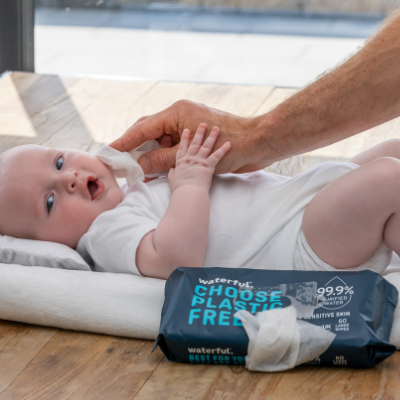 New company already making a big impact with plastic free baby wipes, also proven safe for babies' and tots' delicate skin.
Waterful, which makes plastic-free baby wipes, has won Best New Product Award after just a few months on supermarket shelves.
After 2 weeks of voting, the public chose their winners for the 9th annual Mums & Tots Awards 2021. With over 90,000 Mums voting in the awards, Waterful plastic free baby wipes scooped first place for the Best New Product.
Having launched in Feb of 2021, Waterful baby wipes have gone from strength to strength on both sides of the Atlantic. They are now listed in over 10 countries, including Sweden the US, Canada & Kuwait. Waterful continues to build awareness of an alternative babywipe that is not just completely safe for a baby's skin, but is 100% plastic free, a topic high on the global agenda. Waterful baby wipes contain just 2 simple ingredients plus water, and as they naturally break down within weeks, they are super environmentally friendly.
Speaking about Ireland's fastest-growing baby wipe brand and the award win, Aidan Small, buying manager, baby category, Tesco Ireland commented:
"A huge congratulations to the team at Waterful – it's a great achievement to win a best new product award after only nine months on the market. Our customers are seeking out brands that reflect their own sustainability ethos and are responding well to this new product. We look forward to more customers giving this product a try across the country."
Tom Doyle, one of Waterful's Founder's, remarked "We are honoured to receive such a great award, particularly at a time when plastic-free is so topical. I also encourage anyone concerned about nappy rash or skin irritations to give Waterful baby wipes a try."
Tesco Ireland is the main supermarket stockist of Waterful plastic-free wipes, they are available at select Tesco stores nationwide.
About Waterful
Waterful baby wipes, are accredited by Allergy UK, Cruelty-Free International, the Forest Stewardship Council, the National Eczema Association and certified by Leaping bunny (no animal testing) and the Vegan Society. The wipes are alcohol-free and fragrance-free and contain 99.9 per cent purified water. Not only are Waterful baby wipes biodegradeable, they are also made from natural cellulose plant fibres, making them soft and kind to delicate skin. They are up to 33% larger than other baby wipes. Check them out at www.waterfulplasticfree.com