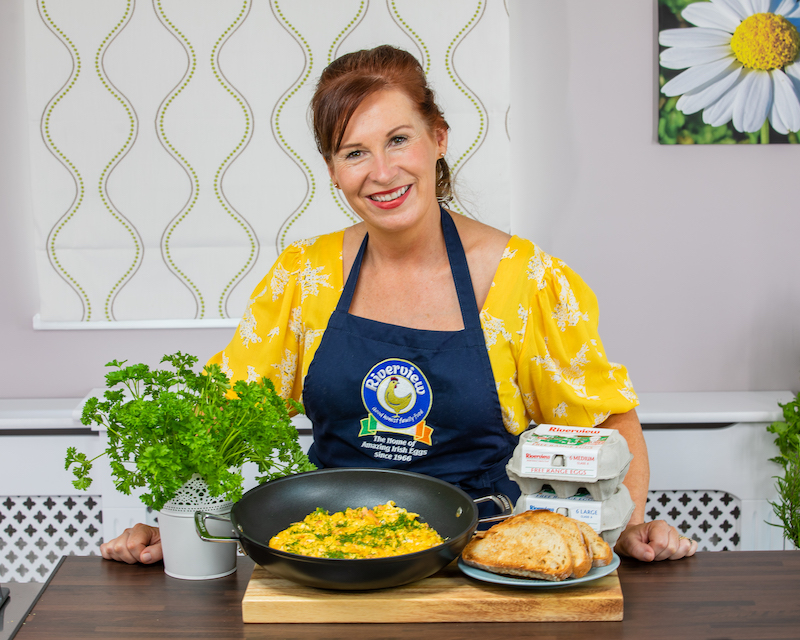 Recipe series 'Get Cracking' with Eggs' reveals how to feed the whole family with quick and easy recipes on a budget
An Irish family business has sought to help busy, on the go families and students, offering nutritious and delicious recipe inspiration on a budget – all using the humble egg as the staple ingredient.
Riverview Eggs are a family run, family owned Cork company and have been supplying their Bord Bia quality assured eggs to Irish Consumers for over 50 years.
This year, they decided to extend their efforts to help families and created a series of instructional online recipe dishes featuring their award-winning eggs.
This was made possible, with the support of a Bord Bia marketing support initiative.
The series, entitled, 'Get Cracking with Eggs' features 16 easy to make recipes.
These are available to view on their website, or across Riverview Eggs various social media channels.
Speaking about the decision to create the series, Riverview Eggs owner DJ Kelleher said:
"We wanted to create something that would be useful for families and students. We understand it is a stressful time at the moment and we wanted to do our bit to try to and offer something that we felt would be of use.
"Get Cracking With Eggs is really back to basics when it comes to cooking – it shows people how to cook food that's nutritious yet easy to make in a short space of time - perfect for anyone on the go.
"We put a lot of thought into the recipes – both myself and Deirdre O'Mahony, the face of the recipe series and we were determined to show the variety of healthy nutritious meals that could be made using our Riverview eggs and whatever you might have at home in the press or fridge.
"We're delighted with how the series turned out and we hope it will be useful to families and students all across Ireland," he added.
When it comes to egg consumption, there is another added benefit that has become even more important in recent months. Given the current public health crisis, where respiratory illnesses have been put under the microscope, so too has the suggested supplementation or addition of more Vitamin D into our general daily dietary consumption.
A recent study by TILDA - The Irish Longitudinal Study on Ageing, published in conjunction with Trinity College - showed up to 1 in 8 older adults in Ireland deficient in Vitamin D, with those numbers increasing to 1 in 5 during the winter months due to decreasing amounts of sunlight.
Even more worryingly, the study, published in April earlier this year, revealed that it estimated 1 in 4 of Irish people over the age of 70 who were cocooning were likely to be Vitamin D deficient.
Aside from supplementation, one of the easiest ways of including more Vitamin D in your diet is through the consumption of rich food sources, sources like, yep, you guessed it – eggs, as well as oily fish.
Around 15 -20 UG a day is the recommended dosage for at risk groups.
Studies have shown that in addition to assisting with immune function, and aiding bone and muscle health, Vitamin D may also help to prevent respiratory infections.
DJ revealed that he felt that in addition to the cost effective elements and the easy to make recipes, it was important to highlight the nutritional and health benefits associated with eggs as part of the Get Cracking With Eggs recipe series.
"It's a vulnerable time for people and we feel that it's important to highlight these benefits because they have scientific research and backing behind them. We wanted to illustrate throughout this very simple recipe series the versatility of eggs, in addition to the health benefits associated with them – particularly in the current climate," he said.
Get Cracking With Eggs is live now on the Riverview Eggs website – and you can view all 16 recipes at the following link here.
You can also view the recipes on the Riverview Eggs social channels on Facebook and Instagram.