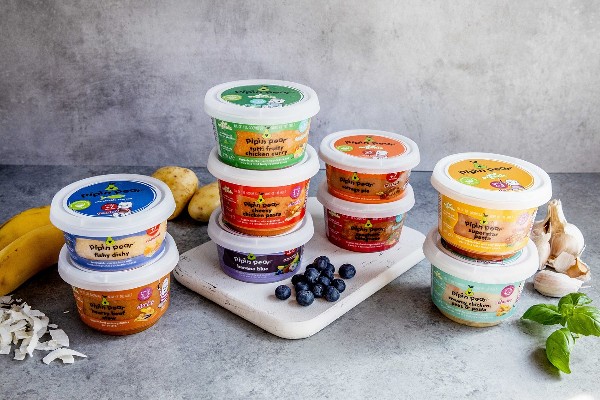 Irish grown chilled baby food brand Pip & Pear undergo exciting new rebrand
Much like the tots it caters for, Ireland's much loved Pip & Pear has evolved from its own infancy as a company and will now take on the world of nutritious, organic baby food in the form of Pipin Pear. Launching into new European markets, the name change to Pipin Pear is one that is consistent with all territories from which it will now operate.
While the name may have changed, the core of what makes this chilled baby food range the best alternative to homemade meals for parents remains the same. Pipin Pear's guilt-free offering is a natural and delicious range that is gently cooked using organic ingredients.
Pipin Pear is 100% organic and free of all preservatives and additives. A healthy and delicious alternative to home cooking that doesn't compromise on taste or nutrients, Pipin Pear offers families delicious dishes to choose from. With a short chilled shelf life, meals also offer up to three of a child's five a day fruit and veg portions.
Pipin Pear are delighted to introduce six new dishes such as Spaghetti Bolognese, Mighty Mango & Chicken, Cottage Pie, Hearty Beef Stew, Creamy Chicken, Peas & Pasta and Vegetarian Superstar Pasta. With no added salt, sugar or additives, Pipin Pear is made for children aged from seven months to three years. With the range split into three stages that are age appropriate, the textures of each stage also help with the development of a normal palate, fine motor skills, aiding speech and language development.
With their newly designed packaging now in a 'bowl' format, Pipin Pear is now even more convenient, making preparing each dish easier when it comes to stirring while heating and allowing little ones and parents to feed directly from the bowl, with no need to decant into a separate dish. "We're thrilled to be in a position to bring a fully organic and sustainable product to market. Ensuring the packaging remained 100% recyclable was something very important to us. We are committed to manufacturing sustainably with pots fully recyclable and BPA free."
The rebranded Pipin Pear received further validation of its superior quality when it swept the board at the recent Blas na hEireann National Irish Food Awards; winning Gold, Silver and Bronze for their Banana Blue, Creamy Chicken, Peas & Pasta and Superstar Pasta.
Pipin Pear launched in the summer of 2015 when Irene returned to work after her second child, "When I had my second child I noticed a gap in the market for chilled, nutritious and tasty baby food, which offered time-pressed parents a guilt-free alternative to home cooking, so I decided to create something myself as I felt other parents felt the same."
Speaking about what the future holds for Pipin Pear, Irene comments, 'I am incredibly proud to bring our Irish brand to wider European countries on the back of our success at home, thanks to our amazingly supportive customers and retailers. With a redesign of packaging, new recipes and updated image, I look forward to seeing Europe's reaction to the product that we have worked so hard on developing throughout the last four years.'
Pipin Pear Chilled Baby Food offers the best alternative to homemade in a convenient little pot and makes it easier for babies to transition to a broad range of solid foods. Make sure to look out for them in the dairy fridge of your local Tesco or Dunnes Stores.