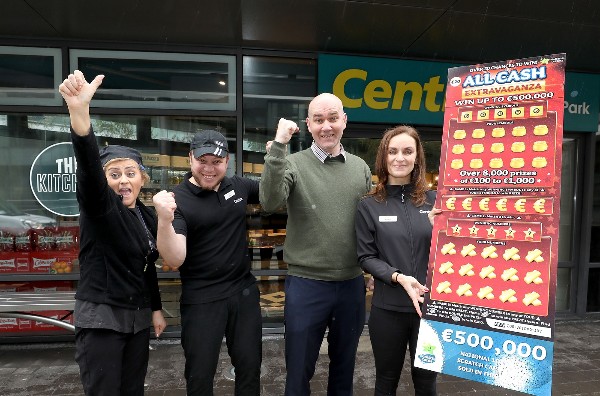 A Dublin man couldn't believe his luck when he scratched his way to a cool half a million euros on an All Cash Extravaganza scratch card while he was on his way to work! The lucky Dubliner purchased his winning €20 All Cash Extravaganza scratch card at the Centra Store in Leopardstown in Dublin 18.

The Dublin dad who is currently renting an apartment with his family in the city centre is already planning his first big purchase – a new home for his family.

He said: "We're still in a state of shock to be honest. It truly is unbelievable that you could win a prize as big as this on a scratch card. Once a week on my way to work, I usually treat myself to a scratch card. It's a bit of fun and you hope to win a hundred euro here and there but you never expect to see a symbol for a half a million euro popping up. I was in work at the time and I physically couldn't speak. I passed the scratch card to one of my colleagues and I told him to call my wife to tell her the news, it was an unbelievable day."

He added: "Like a lot of people in Dublin, we are renting and saving hard to buy a house. It has always been a dream for us to have a home all of our own with a garden big enough for the kids to play in. Over the weekend, we finally allowed ourselves to think that this was real so we've started looking at property websites and over the next few weeks we'll go to some house viewings and plot our next move. It's just so exciting for us all."

The National Lottery have also confirmed that there is still one top prize of €500,000 available on the €20 All Cash Extravaganza scratch card.

Want to share that winning Feeling. Play EuroMillions. Tuesday's EuroMillions jackpot is an estimated €85 million. Play in store, on the National Lottery App or online by 7:30pm on Tuesday evening for your chance to win.