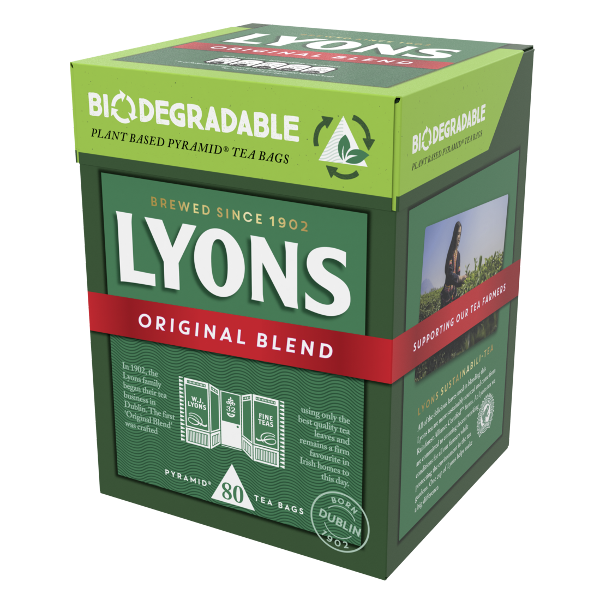 Lyons Tea has become the first major Irish black tea brand to switch to a completely plant-based retail range. Lyons Tea's plant based and biodegradable new teabags are made from a plant material derived from corn starch.
According to an independent study of 1,000 adults conducted by iReach Insights1, 32% of shoppers in Ireland would be more likely to buy plant based and biodegradable teabags as they have a better impact on the environment. Lyons Tea's new plant based and biodegradable teabags helps retailers meet this growing demand.
Since introducing plant-based teabags to its retail range, Ireland's favourite tea brand2 has produced 1 billion biodegradable plant-based teabags, saving 50 tonnes of non-biodegradable plastic, which is the equivalent of 10 million standard sized plastic carrier bags. Unlike alternative black teabags that contain small amounts of plastic which cannot be composted, Lyons Tea's new retail range can be disposed of into a brown (food waste) bin and composted to biodegrade back to nature.
In addition to making its retail range plant based and biodegradable, Lyons Tea has announced that in another environmentally friendly move, it will remove the outer plastic overwrap from all its tea boxes by summer 2021. In doing so, Lyons Tea is demonstrating that like many Irish retailers and shoppers, it is equally as committed to sustainabili-tea.
Gill Irvine, Marketing Director, Lyons Tea said: ''We are proud to enter the latest phase of our sustainabili-tea journey and make the switch to a fully plant-based retail product, producing a 'greener' cup of tea that is better for the environment. It has taken some time to develop our new biodegradable pyramid teabag, but it has been worth the wait, as the new retail range does not compromise on the great taste that we are renowned for''.
''Becoming the first major black Irish tea brand to introduce plant based and biodegradable teabags to our entire range as well as committing to removing the outer plastic overwrap from all retail boxes in the coming months, is something we are very proud of. We know we have a responsibility to align with what our retailers and shoppers want, become a more environmentally friendly brand and our new plant-based product is a testament to that. I call on other brands to follow suit and share our commitment to protecting the planet''.
For more information on Lyons Tea's plant based and biodegradable retail tea range, visit www.lyonstea.ie.
1 According to research of 1,000 adults in Ireland conducted by iReach Insights on behalf of Lyons Tea, August 2020
2Kantar Penetration Total Ireland Inc. Discounter 52W to 17th May 2020