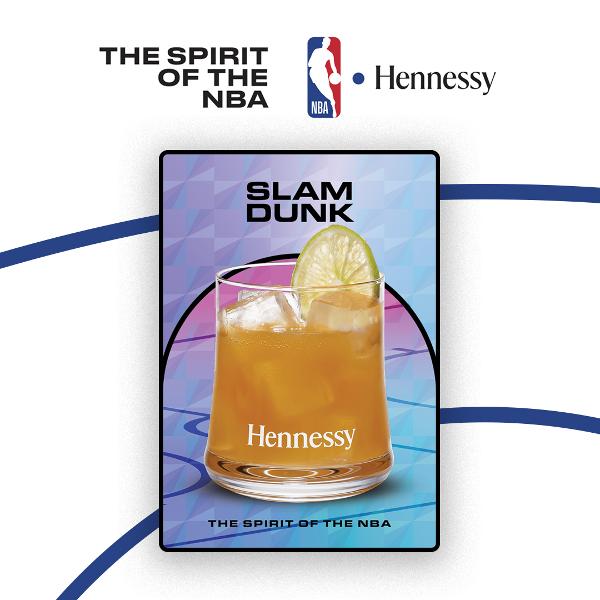 World-renowned cognac house, Hennessy launches an exclusive NBA limited edition bottle of Very Special (V.S.) to celebrate the highly-anticipated upcoming 2023/2024 NBA season. With each sip, Hennessy invites consumers to savour the essence of the game's unwavering and remarkable spirit.
"Game Never Stops" encapsulates Hennessy's vision of basketball as a thriving global sensation, signifying a mission to share the vibrant culture worldwide both on and off the court. 'The Game' extends beyond NBA schedules and seasons, a cultural phenomenon that embodies all of the elements which have made this league unique through values of passion, purpose and vision. It underscores basketball's global appeal, transcending time zones and influencing fans' daily lives, from fashion to design choices; the 'Game Never Stops' celebrates basketball's timeless and universal allure.
The NBA, the most popular and successful sports league in the world since the late 1940's, continues to captivate fans worldwide with its unparalleled athleticism and thrilling competition. As it embarks on another exciting season, the NBA reaffirms its commitment to delivering top-notch basketball entertainment, fostering inclusivity, and making a positive impact on communities. Through this partnership with Hennessy, the NBA celebrates the spirit of excellence both on and off the court, offering fans exclusive opportunities to engage with the game in new and exciting ways.
The NBA Season 3 V.S bottle is a collector's dream, featuring a striking design that reflects the synergy between Hennessy and the NBA. The bottle showcases the iconic Game Never Stops emblem, symbolising the unyielding determination of athletes and enthusiasts alike. The round and robust flavours of Hennessy V.S make it versatile and ideal for any cocktail possibility, from classic recipes and sophisticated cocktail creations to simple mixed drinks.
In honour of the collaboration, Hennessy has artfully concocted bespoke cocktails that are a perfect embodiment of the spirit of the NBA to introduce a unique and flavourful experience for fans and enthusiasts alike. From the bold and fiery to the smooth and sophisticated, there's a Hennessy cocktail to suit every basketball aficionado's palate. Join us in raising a glass to the exciting fusion of Hennessy and the NBA, where the game meets the art of mixology. An example of such a cocktail is included below.
The Hennessy x NBA Limited Edition V.S bottle at €41 is available exclusively in 30 select Tesco stores across Ireland.
Tesco stores include Greystones, Rathfarnham, Bloomfields, Wilton Square, Tallaght, Ballybrack, Merrion, Navan, Clarehall Extra, Arklow Square, Castlebar, Killarney park, Tralee Manor, Letterkenny Square,
Carlow Square, Ardkeen, Headford Superstore, Liffey Valley, Clonmel Square, New Ross, Wexford Square, Limerick Coonagh, Westport, Bettystown, Maynooth Extra, Drogheda Extra, Oranmore, Naas Extra, Portlaoise1, Gorey Ramstown Lower.
The Slam Dunk Cocktail
The Slam Dunk is a crowd-pleaser for a reason. Its captivating blend of tropical notes intertwines harmoniously with the rich complexity of Hennessy cognac, creating a symphony of flavours that dance on your palate.
Ingredients:
45ml Hennessy V.S.
60ml Mango Juice
60ml Club Soda
15ml Lemon Juice or squeeze of one lemon wedge
1 Lemon Wheel
Method:
Pour Hennessy V.S, Mango Juice, Club Soda, Lemon Juice into rocks glass with ice.
Stir to combine.
Garnish with a Lemon Wheel