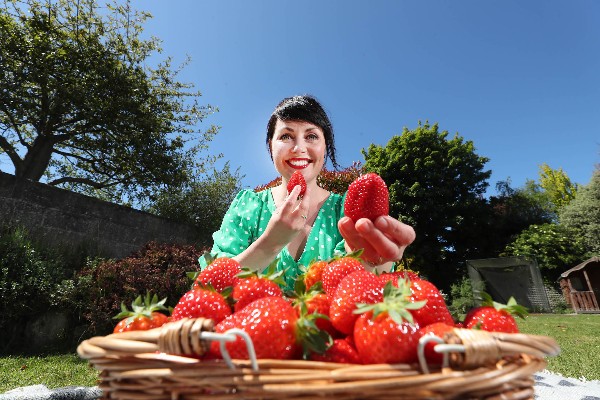 Irish households spend €120m per annum on fresh strawberries
Celebrate The Taste Of Summer - It's Strawberry Season
#CelebrateStrawberrySeason #NaturesSweet
Nothing quite says summer like strawberry season in Ireland, and this year's 'Celebrate Strawberry Season' campaign organised by the Irish Soft Fruit Growers Association, in partnership with Bord Bia and the IFA is encouraging people to choose locally grown strawberries right throughout the strawberry season (May to November). The campaign urges consumers to replace refined sugars with strawberries as a natural and healthy alternative and to highlight that one portion of strawberries provides 100% of an individual's vitamin C requirement in a day.
Strawberries are packed with many nutritional benefits and now more than ever people are turning to fresh, local produce in order to support their health and wellbeing.
Orla Walsh, Registered Dietitian said, "Strawberries are nutritional powerhouses bursting with nutrients, deliciously sweet yet low in calories. One portion of strawberries, which is about 7 berries, gives you all the vitamin C you require for the day, helping us to look and feel at our best. One thing that makes them even more special is that strawberries are low in calories yet high in fibre. Slice them onto your favourite yoghurt, add them into fresh leafy salads – these juicy, fresh berries are a terrific choice to snack on. Therefore, it's not too surprising that I might refer to strawberries as being an 'every day' good food to be enjoyed at any time of day."
Lorcan Bourke, Fresh Producer Manager, Bord Bia said, "During the course of the summer months, strawberries are one of the most popular soft fruits eaten in Ireland. There are circa 175 hectares of fresh strawberries grown in Ireland and the industry is worth almost €40 million to Irish growers. Recent research by Kantar Worldpanel (2020) shows that Irish households spend €120m per annum on fresh strawberries and that over 5 years, both the volume and the value of strawberry sales have grown by 50%, showing the increase in popularity of this household favourite fruit. Thankfully we have a strong supply of locally grown strawberries available throughout Ireland."
Strawberry Recipes
The popular fruit has become one of our nation's favourite summer fruits thanks to its delicious, distinctive flavour. The versatility and ease of preparation make strawberries the perfect ingredient choice for all summer meals. Strawberries could be included in your morning smoothie for a pick-me-up, enjoyed as a snack, as part of a fresh summer salad or eaten as a classic healthy fruit dessert.
A variety of tasty strawberry recipes and nutritional information are available on www.bordbia.ie/strawberry-season and these will be shared on social media throughout the campaign duration under #CelebrateStrawberrySeason.
Media Contact:
On behalf of Bord Bia
Katie Boyle, 087-7065744
Clóda Scanlon, 087-9679650