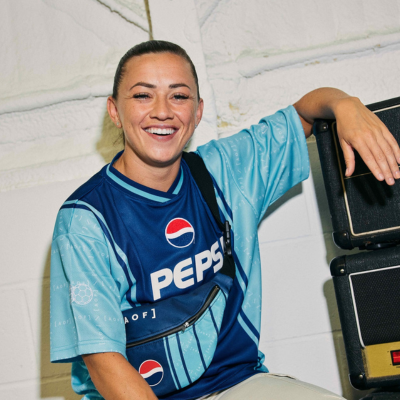 PepsiMax has revealed Ireland captain and Arsenal player Katie McCabe as its latest brand ambassador. This dynamic partnership brings together the maximum refreshment of PepsiMax and McCabe's exceptional football skills on the field which were most recently seen with the Arsenal Women's Team reaching the UEFA Champions League Semi-Finals in May this year.
In true PepsiMax style and tying into the Thirsty for More ethos, the McCabe partnership further reinforces PepsiMax's commitment to women's football. The collaboration also further grounds the brand's football credentials and Thirsty for More campaign platform. Thirsty for More is PepsiMax's commitment to celebrating the never-ending desire of those who challenge the expected and want to have fun, while driving deeper connections with our consumers through a shared passion for things like football and music, unique experiences and of course, the best tasting cola. PepsiCo has been a proud partner of the UEFA Champions League since 2015.
Speaking on the announcement, Katie McCabe said: 'I am delighted to partner with PepsiMax on this ambassadorship. PepsiMax has made a huge commitment to the women's game which was seen throughout the 2022 Euros. I'm looking forward to a summer of working with them.'
Rebecca Burke, Head of Marketing Ireland said: 'We are thrilled to add Katie McCabe to our line-up of world-class football players – having an Irish player in the mix is phenomenal for a worldwide brand like PepsiMax.
As a brand, PepsiMax has made a huge commitment to growing support for the women's game. We have seen how our brand platform Thirsty for More has shone through in support of women's football. We are delighted to have the opportunity to continue this work in the Irish market.'
The news comes as McCabe is also in preparation to travel to Australia this summer with the Irish WNT, a pinnacle moment in her career to date.