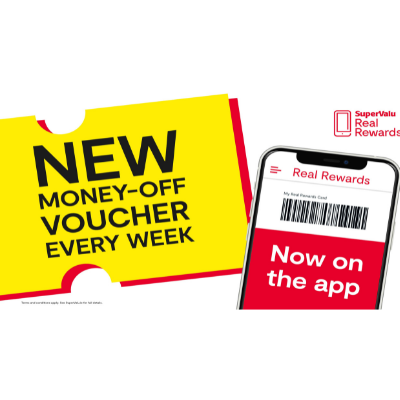 The updated Real Rewards programme features weekly money-off vouchers, weekly coupons and monthly 'scan to win' prize draws to help customers regularly save on their shopping
Following extensive customer research, SuperValu has launched its updated Real Rewards programme and the arrival of a much-improved app available to download for iPhone & Android users. The amazing new benefits from the Real Rewards programme, includes:
Weekly Money-Off App Vouchers
Weekly Coupons
Monthly 'Scan to Win' prize draws
As consumers deal with inflationary prices, SuperValu has listened to its shoppers and made changes to suit their needs. Following an in-depth survey of customers, many expressed the desire for more predictable rewards to allow them to plan their weekly shop and use regular money-off vouchers every week on their App. In response SuperValu devised a new programme which will give customers who download the Real Rewards app weekly money-off vouchers which they can see in advance of going shopping in store or online at supervalu.ie
This further update from SuperValu in their Real Rewards programme follows a significant period of investment in the app which has grown its total membership base to over three quarters of loyal SuperValu shoppers.
Loyal customers to SuperValu, whether they are a weekly trolley shopper or just popping in daily for the essentials will be able to use the new Real Rewards app to access weekly money-off vouchers and coupons, resulting in savings and better weekly planning when it comes to their shopping. Customers who scan their app in store or when shopping online will be rewarded every week with new money-off vouchers and coupons making it easy to save on a weekly basis.
In addition, customers who scan their app or card in-store or online can enter a monthly prize draw to win national and local prizes. There are 10 national prizes up for grabs monthly across Ireland, including:
A year's free shopping with SuperValu
€2,000 SuperValu e-gift card
€500 Life Style Sports voucher
€500 Penney's Voucher
There is also the chance to win a €100 SuperValu e-gift in every store, every month.
For more information on Real Rewards visit https://supervalu.ie/rewards or download the Real Rewards app from the App Store for iPhone for Play Store for Android users.