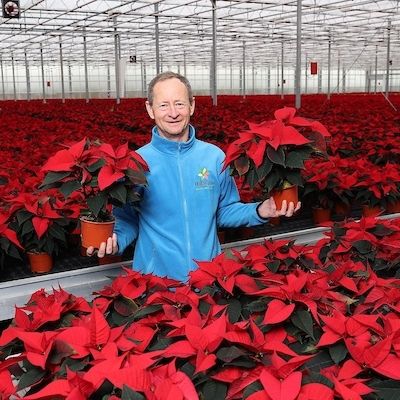 SuperValu, Ireland's leading grocery retailer, has announced that they expect to sell 135,000 Irish grown poinsettias in the runup to Christmas. The festive plants will be for sale in all SuperValu stores across the country in five different formats, a range of colours including red, white and glitter variety, with prices ranging from €3 to €13.
All poinsettias sold by SuperValu are Bord Bia-approved and carry the Bord Bia Quality Mark. This year marks the 24th year that North Dublin based grower Uniplumo has worked with SuperValu to supply the popular plant. To help meet the growing seasonal demand for Poinsettias, Uniplumo will employ over 60 staff over the busy Christmas period to supply over 135,000 poinsettias for SuperValu stores.
Commenting on the impending availability of poinsettias at SuperValu, Uniplumo Head Grower Sean Grimes, who has grown the plant for over 30 years, said: "Poinsettias require great care to grow in our nursery, taking five months to develop to ensure they are ready for SuperValu in time for the Christmas season. All of this hard work allows our Poinsettias to meet Bord Bia's approval standards and we take great pride in them having become a staple of the season in SuperValu over the last 24 years."
Ray Kelly, Interim Managing Director of SuperValu, added: "Year-on-year we see an increased demand for Poinsettias as they come into season and 2020 is no different as we have upped our order to 135,000 flowers. We are proud to be able to continue sourcing all of our poinsettias in Ireland from Uniplumo, who we have built a strong relationship with over the years. Their tireless work to grow and design these beautiful varieties means that SuperValu customers can be assured the highest quality, locally sourced Poinsettias this festive season."
The 24-year partnership with Uniplumo is another sign of SuperValu's commitment to source Irish wherever possible. In addition to the Irish produce sold in-store, SuperValu has also committed to a new €500,000 campaign to encourage shoppers to buy Irish and support local business this Christmas. The marketing campaign is aimed at driving consumers to www.GuaranteedIrishGifts.ie, a new initiative showcasing the best of locally based Irish businesses in communities around the country.
SuperValu serves over 2.6 million customers every week and has 223 stores nationwide. Together with its retail partners, SuperValu employs approximately 14,500 colleagues, making it one of the State's largest private-sector employers. SuperValu continues to source locally wherever possible which helps to sustain 30,000 jobs in the Irish economy.