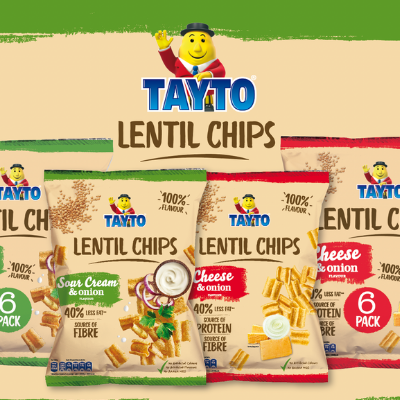 Tayto, Ireland's no.1 crisps and snacks brand*, has just launched its latest product offering: Tayto Lentil Chips. Tayto Lentil Chips contain 40% less fat**, are a source of fibre*** and have no artificial colours and no added MSG. Never one to rest on his laurels, Mr. Tayto has been busy in the kitchen creating this brand-new snack that provides a lighter option with all the great taste of Tayto. Tayto already have proven success in the 'better for you' market with Tayto Treble Crunch, which has also recently undergone a packaging redesign.
Tayto Lentil Chips will be supported throughout 2022 with a heavyweight marketing campaign, with particular focus across January & February, including TV, Radio, Out of Home, digital, social and PR. In store, shoppers will be engaged with a strong display presence on their path to purchase.
Tayto Lentil Chips are available in two mainstream flavours: Cheese & Onion and Sour Cream & Onion. Available in both sharing and multipack formats, Tayto Lentil Chips are sure to make a big entrance and further enhance Tayto's presence in the ever growing 'better for you' market*.
Tayto Lentil Chips are delicious, light and crispy, packed full of flavour and available now!
* Nielsen Value Sales December 2021
**40% less fat per 100g compared to Tayto Cheese & Onion fried potato crisps.
***contains 3.5g of fibre per 100g