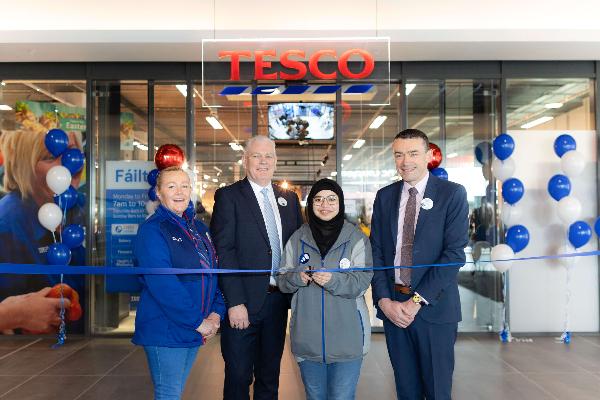 Tesco Ireland has opened a new Superstore at Adamstown in Dublin. 76 new jobs have been created at the state-of-the-art store which offers customers a modern style shopping experience.
An in-store bakery, an F&F clothing department, homewares and access to the very best quality fresh local and Irish produce are just some of what is on offer for shoppers in the local area.
Geoff Byrne, Chief Operating Officer, Tesco Ireland said: "We are thrilled to have opened this latest new store in Adamstown. The customer offering is of a very high quality and the store has brought more employment and choice to the local community."
The Adamstown store measures more than 26,000 square foot and is equipped with a number of energy saving measures such as a zero-carbon heating ventilation and air conditioning (HVAC) system powered by green electricity, dimmable LED lighting and doors on all chill and milk fridges.
Store manager, David Murphy, added: "We've been open and trading for several weeks now, and it's great to see customers enjoying their shopping experience. The whole team and I have been given a great welcome by the local community, and we are looking forward to working together with them over the months and years ahead."
Adamstown is the 166th Tesco store in Ireland providing supports to communities. Tesco is a proud supporter of the communities it serves. To date its Community Fund has helped support thousands of organisations across the country. In its first campaign the Adamstown store will support the locality with donations to three local causes, Adamstown Youth Community Centre, Lucan Sarsfield, and Adamstown/Lucan Crosscare.
Through the food surplus redistribution programme, FoodCloud partners and OLIO Food Waste Heroes will be on hand to ensure no good food goes to waste. The Adamstown team will also join Tesco's continued efforts to support its charity partner, Children's Health Foundation, which supports all sick children in CHI at Crumlin, Temple St, Tallaght, and Connolly hospitals.
With household budgets under increasing pressure, we are absolutely committed to helping our customers, by keeping a laser focus on the cost of the weekly shop. So, whether it's price matching Aldi on hundreds of everyday products, locking prices on hundreds of essentials, or offering exclusive deals and rewards through thousands of Clubcard Prices – we're more committed than ever to providing our customers with great value.