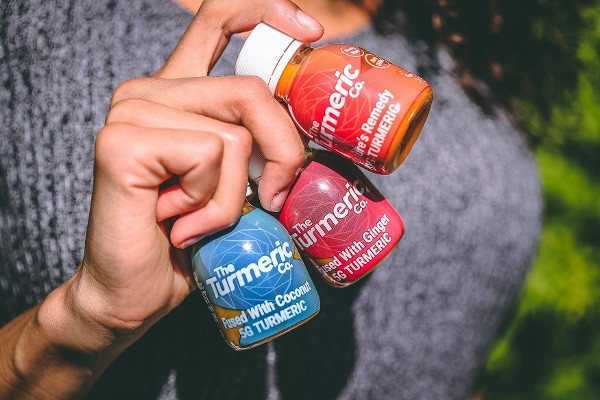 The Turmeric Co has officially launched its range of healthy shot drinks into Ireland after seven years of development, and is now available in over 100 Dunnes stores across the country, as well as selected SPARs. Created to enhance your health and boost your immune system, the brand's three flavours offer a natural blend of fresh and organic ingredients, with each 60ml shot containing 35 whole grams of fresh, uniquely extracted wet Turmeric root.
The original shot, Nature's Remedy, is the simplest way of adding fresh, organic Turmeric to your diet, and Turmeric Fused with Ginger shot has an additional 2.5g of fresh and organic Ginger root. The range is completed with Turmeric Fused with Beetroot, blended with freshly extracted beetroot and combined with flax oil and parsley - a must for anyone who loves nutrition. Additional ingredients in each shot includes watermelon, pomegranate, pineapple and lemon, extracted directly from the fruits.
The brand is the brainchild of international footballer Thomas Hal Robson-Kanu who, after suffering a heavy cruciate ligament injury and experiencing adverse effects to prescribed anti-inflammation medicine, took matters in to his own hands. Along with his family, they spent the last seven years developed the product which now stands head and shoulders above others on the market. The products have already won partnerships with some of the world's most prestigious sporting organisations, including the England Rugby Team and multiple GB Olympic camps, and the brand has ambitious expansion plans in the coming months.
Unlike its competitors, The Turmeric Co does not use powders or water in any of its shots, and its ingredients offer extraordinary effects on health, from boosting the immune system, fighting common colds, to reducing cellular inflammation around the entire body. Turmeric contains a powerful compound called curcumin, a natural anti-inflammatory that makes it an instant alternative to synthetic drugs and traditional medication, and helps fight infection, reduce inflammation and boost your immune system. Each product also includes piperine, an ingredient which enhances the bio availability of curcumin, the active ingredient within Turmeric by up to 2000%.
Available to buy now from €2.99 per shot or €5.00 for two from Dunnes, SPAR, theturmeric.co and Amazon.co.uk.