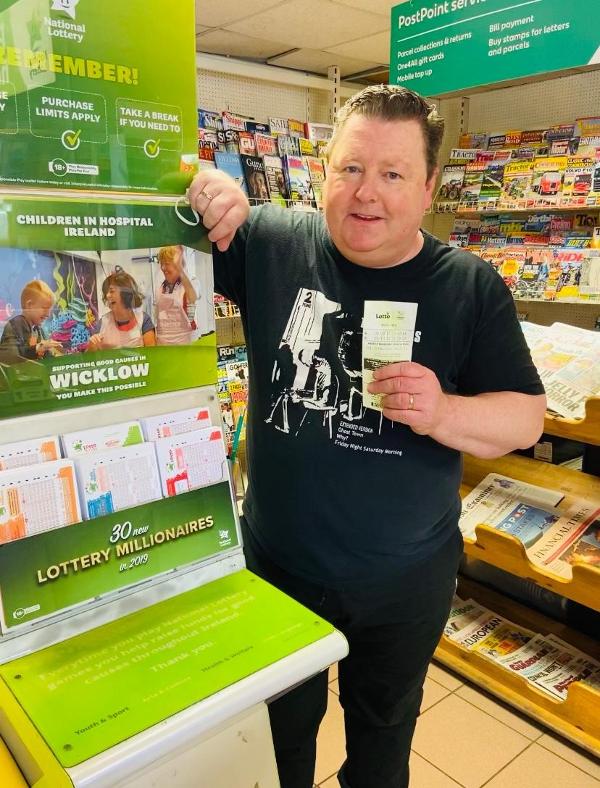 Saturday's jackpot rolls towards €5.5 million (est)
A Lotto player in the seaside town of Arklow was just one number shy of winning the €5,042,364 jackpot on offer in last night's draw. The Wicklow player matched five numbers and the bonus to win €149,448 in the midweek draw.
The winning ticket was purchased in Kavanagh's on the Wexford Road in Arklow on Monday 10th May.
Shop manager, Colm Kavanagh, was delighted to hear the good news for his family run business: "Following the year that we've all had, this really is great news to hear! Our shop is no stranger to big wins – we sold a €3.2 million Lotto jackpot ticket previously as well. We're always delighted to hear when one of our customers has had a winning streak. It's lovely to think that someone could potentially pay off their mortgage and live a bit more comfortably after a win like this – I wish the winner all the luck in the world!"
The winning Lotto numbers for last night's (Wednesday 12th May) draw were: 01, 06, 14, 19, 31, 47 and the bonus 02.
The winning ticket holder is advised to sign the back of their ticket and to get in touch with the National Lottery claims team on 1800 666 222 or email claims@lottery.ie and arrangements will be made for them to claim their prize.
While there was no winner of last night's €5,042,364 Lotto jackpot, more than 87,000 players won prizes across the Lotto and Lotto Plus games. Saturday night's Lotto jackpot will now roll towards an estimated €5.5 million.
Nearly 30 cent in every €1 spent on all National Lottery games goes back to Good Causes in the areas of sport, youth, health, welfare, education, arts, heritage, and the Irish Language. In total more than €5.8 Billion has been raised for Good Causes since the National Lottery was established 33 years ago. In 2020 alone, €254 million was raised for local Good Causes in communities across Ireland.