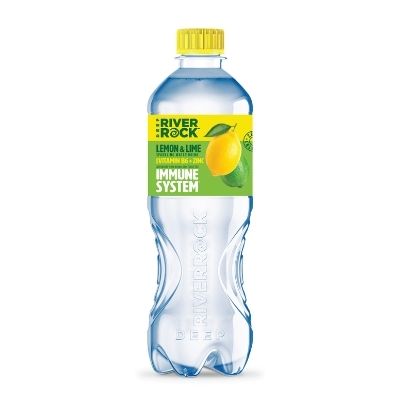 Forest Fruits Sparkling, Lemon & Lime Sparkling and Strawberry Still now available with added benefits to support a healthy immune system
Deep RiverRock variants primed to capture the growth of the Flavoured Water segment and 'better for you' consumer needs
Sustainable water brand Deep RiverRock is pleased to introduce its 'Immune System' range; new fruity flavours with added benefits of Vitamin B6 and Zinc.
New variants will include Forest Fruits Sparkling, Lemon & Lime Sparkling and Strawberry Still, all with added benefits that support a healthy immune system and contribute to overall wellbeing.
Introduced to the market in 1994, Deep RiverRock is a quality water sourced from deep beneath the glacial hill of Co Antrim. It is rich in minerals such as calcium, magnesium, potassium and sodium, all naturally occurring within the source. It began its journey of innovation in 2006, first introducing its flavoured water range – all 'sugar free with no calories'.
The flavoured range has now been revitalised in response to new customer and consumer needs. Experiencing 36% value growth, the Flavoured Water segment is now the fastest growing within the category[1]. The new range will also respond to more health-conscious consumer needs for 'better for you' offerings.
Vitamin B6 and Zinc are well recognised for their contribution to the normal function of the immune system; a particular focus of consumers in the wake of the pandemic. The range also boasts natural flavours with no sugar or calories.
Deep RiverRock's Hilary Hughes explains, "At Deep RiverRock, we are passionate about hydration - and believe that it should always be interesting and sustainable. We are proud to continue our journey of innovation with our new 'Immune System' range, providing fruity refreshment, with the added benefits that our consumers seek – all with no sugar or calories.
Our consumers are increasingly looking for easy and accessible ways to boost their immune system, and this new range will do just that. With the proven benefits of Vitamin B6 and Zinc, consumers can now hydrate with the knowledge that they are also getting some added health benefits.
In true Deep RiverRock style, our marketing campaign will be irreverent but educational and we look forward to introducing the range to consumers across the island this summer."
The Deep RiverRock 'Immune System' range will launch in July 2021. Supported by a 360 degree marketing campaign, the new range will be introduced to consumers with out-of-home advertising, PR, digital, social, influencer outreach and a strong presence in-stores across the island. The launch will also benefit from a significant sampling blitz to encourage trial, through customer partnerships, sponsorship platforms and direct-to-consumer.
Deep RiverRock also continues to lead the charge in sustainability, and was the first water range on the island to move to 100% recycled bottles. It also continues to innovate to eliminate unnecessary plastic from its packaging. In 2018, Deep RiverRock introduced smaller bottle caps, reducing plastic use by 10%. The bottle is also one of the lightest on the market, using 34% less plastic than in 2016.
To find out more or stock up, contact your local Coca-Cola HBC Sales Representative or contact our Customer Service Centre on ROI 1890 26 22 26 | NI 028 9262 0520 | customer.service@cchellenic.com.
Nieslen - MAT Mar 21