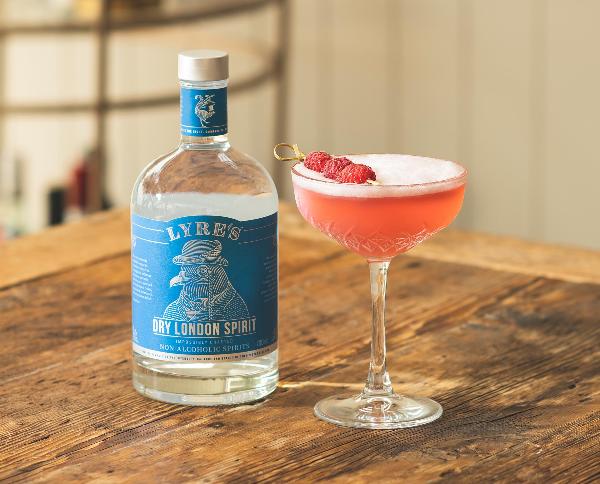 The Australian brand won a total of 13 awards across the No&Low category at the International Spirits Challenge
Lyre's Non-Alcoholic Spirits, which was established in 2019, has become the new go-to drink as the Irish non-alcoholic sector has seen a 116% increase in the sale of spirits in 2021 compared to the same period in 2020. [i]
Millennials are drinking 20% less than their parents were at the same age, and consumers overall are making healthier choices.[ii] The total global alcohol beverage market is vast, now totalling more than $1 trillion US in yearly sales. The market for non/low alcoholic beverages gained 3% of this market share, which is set to grow by over 31% by 2024. In 2020 Lyre's was a nascent product and delivered sales of £4 million during the year. They witnessed 1,300% growth across the full 12 months, even in the face of the onset of the pandemic.[iii]
Just last month, the company completed a seed-plus funding round, valuing the business at €115 million and crowning it as the most valuable independent brand to date in the rapidly expanding no/low alcohol spirits category. This milestone has been achieved in under 24 months of trading, during which time Lyre's has become the most widely distributed non-alcoholic spirits brand.
Due to their increased popularity throughout Ireland, Lyre's have recently appointed their new Irish Brand Ambassador, Richie Delahoyde. Richie brings with him several years' experience as a chef and bartender, where he worked in some of Ireland's leading bars, receiving some of Europe's top awards for his skills.
Richie was voted one of Ireland's top 10 bartender for 3 years in a row, once taking second place at the Irish Craft Cocktail awards. Additionally, he represented Ireland at the Tales of the Cocktail, four times working with the CAP programme, twice as a team leader, and has won competitions with Belvedere Vodka, Disaronno, Jägermeister, Hendricks Gin and was the Irish finalist for the Havana Grand Prix, the Bacardi Legacy Global Competition, and the World Class Cocktail Competition.
Speaking about his new Brand Ambassador role with Lyre's, Richie Delahoyde, said; "I am absolutely thrilled to be joining the team at Lyre's. It is a brand I have been following for quite some time, and over the last few months it has become so popular by both experts in the industry and those at home. For me, it all comes down to taste and quality of the product, and when Lyre's say it is a non-alcoholic drink without compromise, they are not joking, it is delicious.
Irish consumers have been upskilling at home, getting creative with their cocktail recipes during lockdown and have loved the option to have the same taste and quality in a non-alcoholic form, so now that things have begun to reopen, they will expect the same selection behind the bar when they are venturing out again.
I am really looking forward to getting creative with the product and developing a new, exciting range of serves that will be available in more and more venues across the country. A non-alcoholic brand is a first for me, but I am excited for the challenge."
The Australian brand believes that innovation is at the heart of driving growth across the non-alcoholic market globally and is committed to creating products that enable consumers to enjoy more of their favourite cocktails, without compromise. With that came the development of the new ready-to-drink range, which launched earlier in the spring. The RTD range is the perfect companion for all your summer outings with 3 distinct styles; The Classico, Italian Sparkling Prosecco, which is currently available in stores nationwide, the Amalfi Spritz and G&T, both of which will be available later in the summer. These refreshingly convenient beauties are filled with flavours that you'll love to take wherever you go.
The Amalfi Spritz cocktail has already been recognised at the International Spirits Challenge and was the only product to be awarded by the esteemed judging panel with a highly coveted Gold Medal within the No&Low category. The ready-to-drink range feeds into that unwavering commitment of 'no-compromise' as grab-and-go cocktails are expected to be a huge trend this summer. This is something that the judges also recognised with the Lyre's G&T, which was awarded a Silver Medal.
The International Spirits Challenge is the most authoritative, respected, and influential spirits competition in the world, and Industry thought-leaders recognised Lyre's products with a total of 13 medals across the No&Low category: awarding one gold, ten silver and two bronze medals. Now in its 26th year, the ISC is the premier event in promoting outstanding quality spirits from across the globe. Receiving more than 1,800 entries from nearly 70 countries worldwide makes the ISC a truly global competition.
Lyre's is available to purchase from Tesco, Dunnes Stores, and Super Valu stores nationwide, subject to availability. For more information visit www.lyres.eu.
---
[i] Collated EPOS data c.50% of Total Market read to week 20 2021.
[iii] No- and Low-Alcohol Strategic Study 2021 from IWSR Drinks Market Analysis.