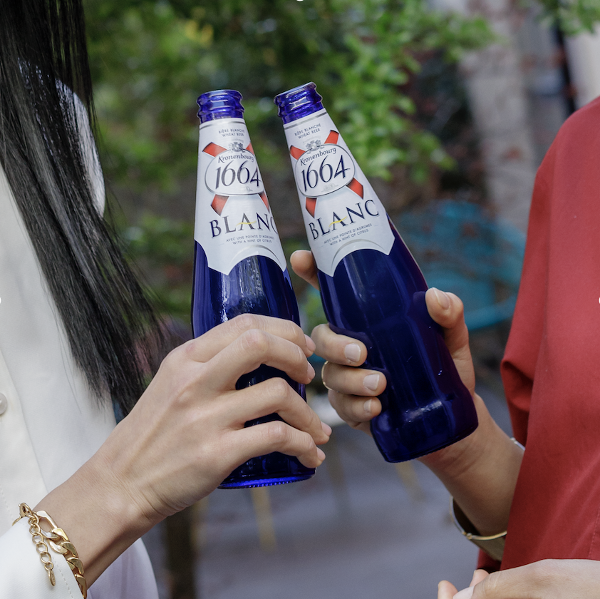 1664 Blanc is a playful, elegant, and refreshing tasting beer from France, brewed with a dash of "joie de vivre" (the joy of life) in the everyday. Launching exclusively in Tesco outlets across the Republic of Ireland, 1664 Blanc boasts hints of subtle spice, notes of peach and citrus flavour bringing you good taste with a twist, just in time for summer.
Standing out from the crowd with its eye-catching azure blue bottle, this uniquely layered brew can be broken down into a journey of flavour notes, enhanced by its complex recipe. Subtle bitterness is balanced with notes of white peach, giving 1664 Blanc it's pearlescent golden haze.
Best served chilled, it's the perfect choice for those long summer evenings from post-work sundowners to alfresco rendezvous. Paired with delicious grazing boards, seafood, and salads and even berry flavoured desserts, 1664 Blanc is the ideal accompaniment. Blanc is part of 1664 brand house originating from Kronenbourg, which boasts a rich heritage of brewing in the Alsace region for over 350 years. This Kronenbourg line is a nod to this noble heritage, and a step towards the new fresh premium flavours of the modern drinker.
Speaking about 1664 Blanc, Linda Bradley, Head of Beer at Diageo said: "We are really excited for the arrival of 1664 Blanc to Tesco this summer. It's a great tasting beer with fresh citrusy notes that will appeal to those who want more of a premium drink experience - I can't wait for this to hit Irish palettes!".
1664 Blanc is now exclusively available from Tesco outlets across the Republic of Ireland in a stylish azure blue bottle in 6 x 330ml at RRP €12 and 12 x 330ml at RRP €20 at 5% ABV.
Enjoy 1664 BLANC sensibly.
Get the facts. Be Drinkaware. Visit drinkaware.ie.