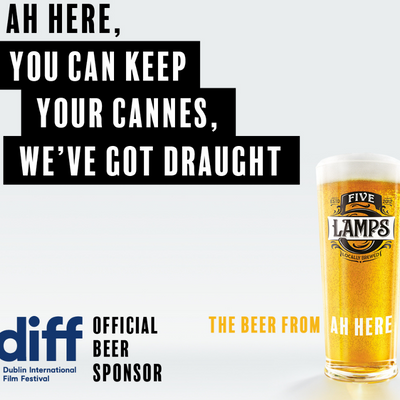 Ah here, a Dublin-born Festival needs a Dublin-born beer! 5 Lamps has been announced as the official beer of Ireland's premier film event, the Dublin International Film Festival.
The iconic 10-day film extravaganza will run from February 23rd to March 4th and will welcome a host of onscreen talents including Oscar-nominated Paul Mescal, along with Emily Watson, Jane Seymour, and Aidan Gillen, and many more.
This new partnership marks the beginning of a fantastic new chapter for 5 Lamps. Like many of the Dublin-born and Dublin-based actors, producers and film crews that are represented at the festival, Five Lamps is a local beer that's very proud of its Dublin roots, and this partnership amplifies its support of Dublin film and culture.
Some might say movies and 5 Lamps are almost a better combination than Paul Mescal and GAA shorts. We'll allow the movie fans to decide as they enjoy a 5 Lamps beer at the Dublin International Film Festival!
Siobhan Casey, Brand Manager, 5 Lamps said: "We are delighted to announce a brand-new partnership with Dublin International Film Festival. 5 Lamps continues to grow in its popularity throughout Dublin, and the rest of the country. This partnership has come on board at a perfect time in the brand's trajectory as one of Ireland's local lagers, and at a really exciting time for Irish cinema. We look forward to working with DIFF, and to the many exciting movies that this festival brings to Dublin"
For more information on 5 lamps, check out @5lampsbrewery on Facebook and Instagram.