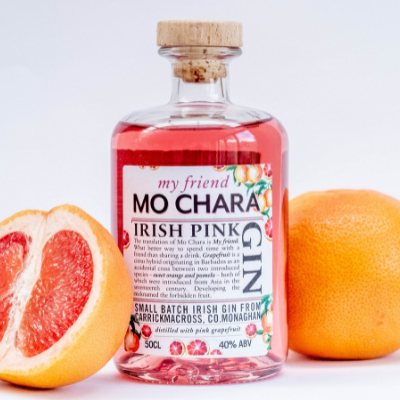 Mo Chara Pink Grapefruit and Pineapple gins available in 150 Aldi stores nationwide
Aldi has teamed up, once again, with Monaghan based Old Carrick Mill Distillery to introduce two exclusive small batch Irish gins to 150 stores nationwide. Mo Chara Irish Gin takes its name from the Irish language, meaning "my friend", and is the perfect spirit to share among friends.
The first, Mo Chara Irish Pink Gin, is distilled using a range of botanicals including pink grapefruit, juniper, lemon, lime, coriander, angelica root. With its stunning blush tones, and distinctive notes of grapefruit, Mo Chara Irish Pink Gin will retail at €19.99.
The second gin to hit shelves is an intriguing small batch Irish Gin distilled with pineapple with subtle notes of other botanicals such as juniper, coriander, angelica root, cassia, pear, and lime with a retail price of €19.99. The gins pair wonderfully with any premium tonic water, or lemon juice, and can be complemented by a slice of pink grapefruit or pineapple respectively.
Steven Murphy, founder of Old Carrick Mill Distillery, Co Monaghan, commented: "We have worked with the Aldi team for several years, and we continue to be impressed by their support of artisan Irish producers. With the support of Aldi, our small batch gins have been able to reach a larger target audience and we are delighted to see our Irish Pink Gin and Irish Pineapple Gin reach the shelves of 150 Aldi stores nationwide. We can't wait to hear what consumers have to say once they taste the products."
Both Mo Chara Irish Small Batch gins are available in 150 Aldi stores across the Republic of Ireland from 14th March and while stocks last.
Steven has created a selection of wonderful cocktails with the gins, a twist on the Pink Lady cocktail and also a wonderfully fresh cocktail with the pineapple gin - recipes below.
The Irish Lady
35ml Mo Chara gin - your preferred flavour
25ml triple sec
25ml lemon juice
10ml sugar syrup
10ml egg white
Put all ingredients in a shaker with ice and shake for 30 seconds. Strain into a rocks glass with a large chunk of ice and serve with either a pink grapefruit slice or pineapple slice depending on the gin you used.
Pineapple Cooler
35ml Mo Chara Pineapple Gin
15ml Elderflower liqueur
25ml Fresh lime juice
25ml Sugar syrup
Fresh mint - 5-10 leaves
Apple juice – to top up glass
Muddle mint, add lime juice and sugar syrup, fill glass with ice, add Mo Chara Pineapple Gin and elderflower liqueur, stir and fill with apple juice.