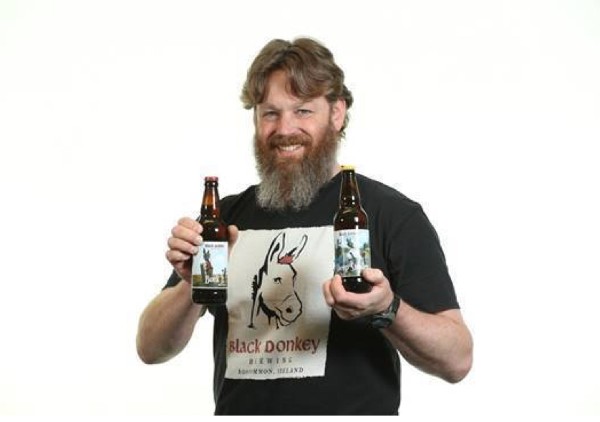 Rascals Brewing Company, Inchicore, Dublin, Black Donkey Brewing, Ballinlough, Co. Roscommon, Brehon Brewhouse, Carrickmacross Co. Monaghan and Lough Gill Brewery, Cleveragh, Co. Sligo
Aldi also extends contract with Lough Gill Brewing Company
Craft beers to go on sale as Aldi Specialbuys from 21st & 24th May
As with many businesses, the Covid-19 pandemic has had a devastating impact on the operations of small suppliers across Ireland. Over the past two months, Aldi has reached out to a number of its current small suppliers, as well as some new ones in order to support their businesses at this time.
Rascals Brewing Company, Black Donkey Brewing and Brehon Brewhouse are three Irish suppliers that Aldi has partnered with which has enabled these three small Irish craft breweries to supply all 142 Aldi stores nationwide, a lifeline during the uncertainty of Covid-19 pandemic. Each supplier will have Specialbuy Craft Beers on sale in Aldi over the coming weeks.
Lough Gill Brewery came on board with Aldi to launch their Native IPA beer as part of the summer seasonal range. In support of current suppliers during the pandemic, Aldi has extended this contract into the autumn season and given additional support to help Lough Gill Brewery meet the supply required for Aldi stores nationwide.
Founder of Rascals Brewing Company, Emma Devlin said, "Our export and keg sales have suffered most and this affects a huge part of our business and income. The closure of pubs has been a serious hammer blow to our business and our industry. Rascals HQ restaurant has been reduced to offering takeaway service only, with a significant decrease in projected restaurant sales overall for 2020. Staff numbers have been affected too, with temporary layoffs and staff hours being reduced."
"We started working with Aldi back in September 2016 as part of a Specialbuy for small Irish craft beer producers. On the success of this Specialbuy, we have been working with Aldi ever since. They are great supporters of Rascals and in general of Irish Craft Beer. In April, when sales/production had halted dramatically for us, Aldi reached out to offer support and list two of our premium core range as part of their upcoming Specialbuys. The support from Aldi couldn't be more valuable at this current time, and we're delighted to have a partnership with one of the leading supermarket retailers in the country. We both place quality for customers on top of our business values so this feels like a natural partnership and one which we hope to build on."
Founder of Black Donkey Brewing, Richard Silberry said, "The closure of all pubs, restaurants, and hotels in the country, along with the absence of tourists has meant the loss of approximately 80% of our market."
"Black Donkey Brewing last partnered with Aldi's "Grow with Aldi" program in February 2019. We supplied product to Aldi stores in February 2019, and while we didn't get a permanent listing at the time, we are happy to get a second opportunity to build our relationship. We are very appreciative of all support at this very challenging and dynamic time. Ireland's craft brewers are an often overlooked, but increasingly important part of Ireland's hospitality industry and like our colleagues in the pubs and restaurants, any opportunity to explore alternative markets, and build new relationships at this time is very welcome".
Founder of Brehon Brewhouse, Seamus McMahon said, "Since Covid-19 hit, we have had to concentrate on packaged products. Gone are the draft lines. By changing to bottles we have been able to keep our staff in work. Sourcing raw ingredients and cash flow has been a problem."
"We had been supplying Aldi Stores nationwide from our foundation. Our products had been very well received and this helped us develop as a business. So the relationship with Aldi was already established and when the call came to supply Specialbuy products, we were only too happy to apply. We have always found doing business with Aldi incredibly easy. You supply the products and you get paid. In this uncertain time, cash flow is king."
On sale from Thursday, 21st May:
Rascals Brewing Company Fruitropolis Pale Ale €2.49/330ml – ABV 4.3%
Rascals Brewing Company Wunderbar IPA €2.49/330ml – ABV 6%
Black Donkey Brewing Company Sheep Stealer €2.49/500ml – ABV 5.6%
On sale from Sunday, 24th May:
Brehon Brewhouse Stony Grey IPA €1.99/500ml – ABV 6%
Brehon Brewhouse Brehon Blonde €1.99/500ml – ABV 4.3%
Aldi have also extended the contract for Lough Gill Company who produce Lough Gill Native IPA, which is already on sale in all 142 Aldi stores nationwide.
Founder of Lough Gill Brewing Company, James Ward said, "Covid 19 is crushing small business right across the country. With borders and bars closed, we have lost our draft sales and our export markets. Working with Aldi has been a great Lifeline to us in terms of cash flow. Consumers want to support us and with the help from Supermarkets like Aldi we can get our products in front of these very customers".
On sale now:
Lough Gill Brewery Native IPA €1.99/440ml - ABV 5.5%
Rascals Brewing Company:
Rascals Brewing Company is an Inchicore-based independent craft brewery, founded in 2014 by the husband-and-wife team of Emma Devlin and Cathal O'Donoghue. In autumn 2018 they opened Dublin's first taproom and pizza restaurant in Goldenbridge Estate, Inchicore. As well as a popular spot for lovers of pizza and locally-brewed beer, Rascals HQ has become a hub for local community organizations. Rascals offer a huge amount of support to all kinds of local youth, musical, variety and sports groups. Rascals Brewing Company prides itself on building strong local relationships and enhancing the community of Inchicore and Dublin 8.
Black Donkey Brewing:
Black Donkey Brewing was founded by husband and wife team of Richard Siberry and Michaela Dillon in 2014 and has been brewing traditional Irish and European style ales and lagers in Ballinlough, Co. Roscommon ever since. All production, "from grain to glass" is carried out using as many local products as possible.
Brehon Brewhouse:
Brehon Brewhouse was established in 2014 and is based in Carrickmacross Co. Monaghan, a stone's throw from the birth place of renowned Poet Patrick Kavanagh, whose poetry provided the inspiration for the "Stony Grey IPA". The brewery is uniquely set on a working dairy farm and produces a range of natural ales and stouts using locally sourced ingredients. Nothing is added but the skill of the brewery and the quality of the ingredients. It's safe to say that Brehon Brewhouse products are "Irish Beer Crafted by Hand".
Lough Gill Brewing Company:
An Independent Family Run Craft Brewery situated in Sligo, close to the shores of Lough Gill on Ireland's Wild Atlantic Way. Founded in 2016 Lough Gill Brewery restored the lost tradition of brewing in Sligo town, a town that once hosted 5 breweries. Ran by James Ward and Jordan Donnelly we aim to produce the highest quality craft beverages for our customers to enjoy, producing a wide range of styles from IPAs, Pale Ale, Red Ale Brown Ale, Lager & Sours.
Grow with Aldi
Grow with Aldi launches in stores nationwide on Sunday, May 31st. Aldi is committed to growing its Irish supply base and increasing the number of Irish products available in its stores. It has invested more than €1,500,000 in its Grow with Aldi supplier development programme since 2018, which offers up-and-coming artisan Irish food and drink producers the chance to have their products listed in Aldi's 142 stores. Grow with Aldi products will be on sale in Aldi stores later this year. Keep an eye on www.aldi.ie for more information.