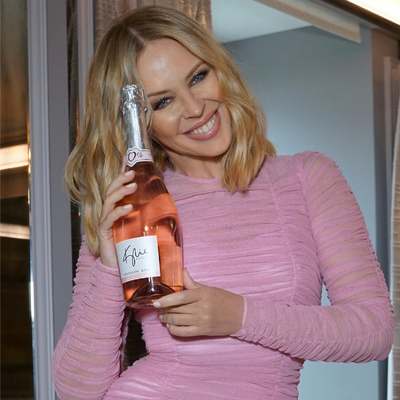 Kylie Minogue Wines zero percent sparkling rose selling over one million glasses since launch, with one bottle sold every ten seconds in the UK.
"I am over the moon with the incredible response to this latest addition to the Kylie Minogue Wines portfolio. Out first zero-alcohol wine and a truly sparkling example what can be achieved in this area! This really is a tribute to my amazing Kylie Minogue Wines team - ever since we launched, we have focused on delivering many varietals of innovative and high-quality wine, for every occasion and person, worldwide. Our Zero Percent Sparkling Rosé is no exception, and I am beyond thrilled it has been received so well. Thank you for the continued support, and cheers to the new year, lovers!" - Kylie Minogue.
In December 2022 Kylie Minogue Wines launched its first 0% alcohol Sparkling Rosé in the UK, with flavours and acidic balance mirroring that found in wine. Through a blend of premium Organic European grapes and green tea selected from the Liu-Da Mountains of Yunnan province in China, Kylie Minogue Wines' 0% alcohol production process provides maximum development of wine attributes without generating any alcohol.
The careful selection of ingredients is reflected in the extraction process of the tea, with one bud and two leaves individually hand-plucked at a time. Brewed into a strong infusion and added to the grape ferment, the result is an additional mouthfeel and finish, rounded off with dried tannins to present a complex and finely balanced Sparkling Rosé, minus the alcohol. Kylie Minogue Wines' Alcohol-Free Sparkling Rosé is just 22 calories per 100ml which is around 80 less calories per glass than a standard glass of Prosecco, making it a delicious, lighter alternative. (Source: DrinkAware.co.uk 125ml glass of 12% ABV Prosecco contains around 108 calories).

Barry & Fitzwilliam, Irelands largest Independent Premium Drinks Distributor, are delighted to announce Kylie Minogue's 0% alcohol Sparkling Rosé is now available in Ireland, you can buy online from
www.WinesOfTheWorld.ie
About Kylie Minogue Wines
Kylie Minogue Wines has sold over 7 million bottles (that's over 35 million glasses of Kylie Minogue Wine poured) and are available to purchase in 31 countries in well-known stores in Ireland such as SuperValu, Centra, Tesco, Dunnes, Carry Out and BWG. On June 6th 2022, Kylie Minogue Wines officially launched in the USA on wine.com with a very special performance at The Café Carlyle.
In just over 2 years, the brand has achieved remarkable success with a portfolio of 9 wines including the best-selling Rosé collections and Prosecco Rosé in the UK. The Côtes de Provence Rosé is also poured at some of the world's best establishments including Annabel's in London and Bemelmans Bar at The Carlyle Hotel in NYC. With multiple awards including three golds in the prestigious Drinks Business Wine Awards, and distribution now in 31 countries, the brand is going from strength to strength in partnership with Benchmark Drinks.
About Kylie Minogue
Since The Loco-Motion topped the charts in 1987 and became the highest selling single of the decade in Australia, Kylie Minogue has sold over 80 million records, achieved 34 Top Tens and 7 Number Ones. In 2008, Kylie was awarded an OBE for services to music as well as the highest cultural honour in France, Chevalier de l'ordre des Arts et des Lettres, by the French Government for her contribution to the enrichment of French culture. In 2019, she set the current record for the most-watched performance ever at Glastonbury, with over 3.9 million people tuning in. To coincide with her birthday on May 28th, 2020, Kylie launched Kylie Minogue Wines exclusively with London-based distributor Benchmark Drinks.
About Benchmark Drinks
Benchmark Drinks is a London-based distributor and brand developer established in 2018. Led by Managing Director Paul Schaafsma, the combined trade experience of the team totals over 100 years all in senior management roles. Benchmark Drinks manage a premium portfolio of award-winning global brands from Australia, New Zealand, Argentina and France.
About Barry & Fitzwilliam
Barry & Fitzwilliam Irelands largest Independent Premium Drinks Distributor. Representing an exceptional portfolio of international brands, the company carries over 120 Premium Wines, Spirits and Beer brands. Operating from extensive warehousing and administration facilities based in Cork and Dublin, Barry & Fitzwilliam has a direct route to market and is committed to effective nationwide distribution with a distinct emphasis on Customer Care. To find out more visit www.bandf.ie