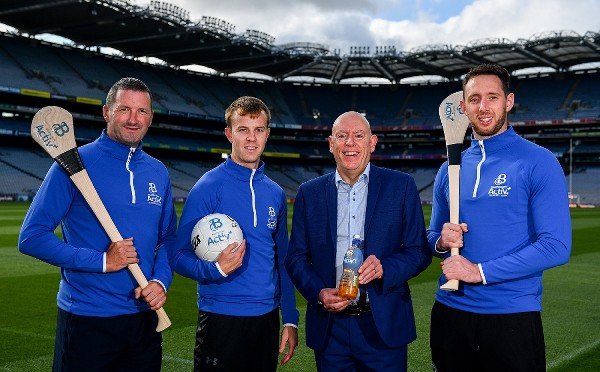 Ireland's No. 1 water Ballygowan, part of Britvic Ireland, has teamed up with the GAA & GPA to develop a fitness drink for active lives called Ballygowan Activ+. Ballygowan Activ+ is now the official fitness partner of the GAA/GPA. As part of the partnership, a contribution from each bottle sold will be directed to GAA initiatives to fund grassroots GAA and GPA player development programmes.
Delivering on Britvic's A Healthier Everyday strategy to help consumers make healthier choices and lead healthier lives, Ballygowan Activ+ was developed by Britvic in consultation with the GAA/GPA based on the refreshment needs of both elite sports people and today's everyday health conscious consumer. Development of the product took 18-months and included intensive research in sports nutrition, packaging development and the Britvic liquid development team, with extensive consumer research at every stage, to bring this unique fitness drink to the market.
The added vitamins, minerals and electrolytes in Ballygowan Activ+ help to refresh and replenish our bodies so we can maintain an active lifestyle every day. Ballygowan Activ+ has zero sugar and only 25 calories per 500ml bottle with two tempting fruit flavours to choose from; Orange or Apple & Raspberry. It is available nationwide at an RRP of €1.75/£1.35.
Ballygowan Activ+ is the perfect fitness drink, suitable for everyone, no matter what their activity level is; from leading GAA players to a group of friends playing a five-a-side or to refresh after a brisk walk or run.
Launching the new partnership, John Horan, Uachtarán CLG, said: "I'd like to thank Ballygowan for their commitment to support our players through this joint GAA and GPA initiative. Our players are great ambassadors for our games and prepare themselves to the highest standards so that they can perform at their very best. I'm sure our players will benefit hugely in their preparation and hydration from the new Ballygowan Activ + drink as well as off the field through the allocation of funding to Player Welfare initiatives."
Kevin Donnelly, Managing Director, Britvic Ireland stated: "We are delighted to finally reveal this special product and collaboration between Ballygowan and the GAA/GPA. Britvic Ireland is a leader in the no and low sugar soft drinks market and we are delighted to use this expertise to work with the GAA and GPA to bring the ultimate fitness drink for active lives to the market. Ballygowan has been hydrating county hurling and football teams for a number of years and the launch of Ballygowan Activ+ gives us a great new platform to promote the benefits of healthy hydration for everyone.
Paul Flynn, GPA Chief Executive Officer said "Ballygowan have long been leaders in sports hydration and we are delighted to introduce the new Ballygowan Activ+ Drink as an Official Fitness Partner of the GAA/GPA. A percentage of sales from every bottle will benefit our players, with proceeds contributing to the GPA Player Development Programme. These programmes play a key role in developing our amateur players as professionals. In addition, it will enable the growth of football and hurling across the country, driving Gaelic Games from grassroots up."
Ballygowan is one of Ireland's most iconic brands and is the number one natural mineral water in the market. 50 million litres of Ballygowan Natural Mineral water are bottled each year at source in Newcastlewest, Co. Limerick. Ballygowan has been a proud sponsor of the Dublin Senior Men & Women's Football and Hurling teams for the last 5 years, and are also hydration partners of Kildare, Limerick, Kilkenny, Cork, Kerry and Westmeath.