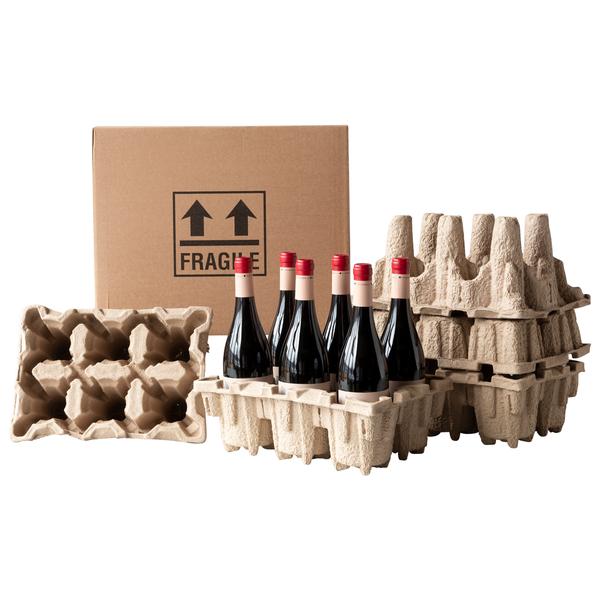 With a recent nationwide surge in online grocery shopping and home delivery services, Bubble Brothers Wine Merchants, based in The English Market, Cork, have made the environmentally conscious decision to 'Go Green' with their new wine delivery packaging.
Sourced from the UK, Bubble Brothers felt the need to invest in a new method of packaging that is not only ecological but also protective and secure. The sustainable packaging called 'Pulpsafe', is made from 100% recycled materials and is 100% recyclable and reusable.
Billy Forrester, Managing Director of Bubble Brothers Wine Merchants states 'After twenty years in business, we remain proud to offer great wine and champagne in the English Market and online. Since the advent of COVID-19, there has been a surge in orders from our website for home delivery, and we were delighted to find a robust, sustainable solution for shipping by courier. The new recycled boxes are far better for the environment than polystyrene, for instance, because if they can't be re-used, they can be recycled yet again!'
Billy continued, 'Wine is difficult to transport safely, like any liquid stored in glass. Bottles are easily broken if they're not securely packed, and one breakage can ruin a whole mixed case. We've learned from experience that investment in packaging is money well spent, and the new boxes represent great value: they're good for the planet, easy to pack and unpack, and they're really strong and secure. We don't charge for our transit boxes, but we hope our customers find creative ways to keep them going once they've arrived, whether that's recycling or reuse.'
Bubble Brothers are also currently looking into implementing a discount system for the packaging that is returned to them for reuse.
For further information on Bubble Brothers Wine Merchants visit bubblebrothers.ie or their stall at The English Market, Cork. Many of The English Market Traders have introduced home delivery and click and collect services, for more information please visit www.corkcity.ie/en/english-market/click-and-collect-delivery-services.