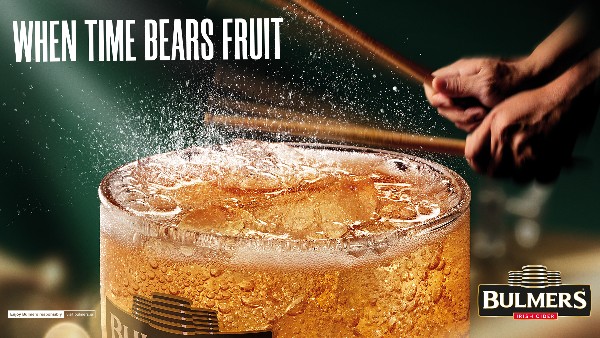 Bulmers Irish Cider launches exciting ATL campaign 'The Drum – When Time Bears Fruit'
New ad builds on previous successful campaigns from the home of Irish cider
To the launch of Bulmers' new ATL campaign 'The Drum – When Time Bears Fruit', celebrating Bulmers' renowned rich refreshment and nuanced fermentation process; and highlighting Bulmers' dedication to craft over time. Fermented for up to 18 months, Bulmers Original Irish Cider proves that there is no shortcut to greatness.
'The Drum – When Time Bears Fruit', contributes to a big year for Bulmers, with the cultural icon celebrating a successful summer in the Clonmel Orchards, whilst welcoming a new brand vision and updated product to the Bulmers family; Bulmers Rose.
The piece, supported by VOD, OOH and Social investment was filmed and produced in Bond Street Studios under the direction of Conor Maloney of Cashmere Media in association with agency partners Goosebump.
A relentless percussive soundtrack scores an unyielding pursuit of perfection as time ticks by; giving an insight into the process by which Bulmers Original Irish Cider is made.
Keen observers will note the evolution of "Time" in Bulmers' content; taking a nod from "Time Dedicated to You" a hugely successful campaign in the early noughties and "Not a Moment Too Soon" airing in 2015.
The emotive new ad proves that patience is a virtue, something the Irish consumer is well aware of as the country tentatively reawakens from its slumber, as socialising at home or with friends and family becomes the norm once more.
Karl Donnelly, Bulmers Marketing Director; "We're delighted to launch this refreshing new campaign, which hinges on Bulmers' craft and dedication to achieving perfection. The events of the last few months have shown the value of patience, highly prized at the home of Irish cider, and this campaign alludes to the rewards that come to those who practise it."